UK radio host says strip 'racists' of bank accounts, passports and ability to 'have a life' after Euro 2020 racism row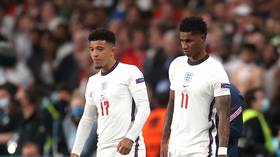 British radio host Mike Graham, who's no stranger to being accused of racism himself, has called for condemning racists to non-personhood by taking away their bank accounts, passports, public benefits and other resources.
Graham ranted on his talk show on Tuesday morning, decrying the racist social media messages that were posted after England lost to Italy in Sunday's Euro 2020 championship game.
"There are people in our society who are worth less than the dirt in the road," he said, adding that "these are the people who make us all feel ashamed that they call themselves British, and they make us all feel embarrassed that they think of themselves as England fans."
Graham went on to call for racists to be hunted down and stripped of their rights. "I've got a plan," he said. "The time has come to not only find these people, not only to prosecute them for their lawless behaviour, but also basically to excommunicate them from our society."
The 60-year-old London native added that the UK doesn't need people who are "nasty, ugly, ghastly creatures" who hate others based on the colour of their skin.
So forget about locking them up, forget about throwing away the key, forget about banning them from football stadiums, right. I've got a better idea. Instead, let's make it impossible for them to actually have a life – no bank account, no ability to travel, no passport, no benefits, nothing.
The radio host offered no details on how racism might be adjudicated before alleged offenders are banished.
Ironically, Graham himself has been accused of racism on multiple occasions, and in at least one of those cases, the allegation was erroneous. For instance, in January 2019, when he said "I hate polls," referring to election surveys, a caller accused him on air of being a racist because he thought Graham had said "I hate Poles," as in Polish people.
Also on rt.com
550k Brits sign petition for verified ID from social-media users as public debates whether it'll curb racist abuse of footballers
In April 2020, Graham was accused of anti-Irish racism and "weaponizing child abuse," the Glasgow Times reported, after he repeatedly referred to an Irish man as "Paddy" during a Twitter spat and posting a tweet saying, "Celtic. The paedo's football club."
An anti-racism group named Call it Out said of the commentator, "His display of anti-Irish racism is potentially a criminal offence. It is most definitely an example of the kind of racist, hate-filled discourse which makes minority communities feel unsafe and silences them in the public space."
Also on rt.com
Beatings, racism and political point-scoring: Euro 2020 laid bare much of England's festering underbelly
Just a few months ago, Graham gloated over a controversial report that he said showed "Britain is now officially not a racist country." He accused activists and "racism professionals" of being upset over the country's non-racist status.
The fact that Britain is now officially not a racist country seems to have upset quite a lot of activists and #racism professionals. You know who you are... https://t.co/on6qdFVy78

— Mike Graham 🇬🇧 (@Iromg) March 31, 2021
Like this story? Share it with a friend!
You can share this story on social media: