'We're all vaxxed!' Teletubbies announce Covid 'vaccination,' bewildering fans and angering anti-jab activists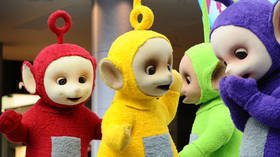 Children's television stars the Teletubbies announced on Wednesday that they had been fully 'vaccinated' against Covid-19 – drawing mixed reactions from current and former fans of the show.
"We're all vaxxed! Just in time for a Tubby hot summer," announced the Teletubbies on their official Twitter account on Wednesday, along with four photos showing the vaccination cards of the four characters: Tinky-Winky, Dipsy, Laa-Laa, and Po.
All four received their first dose on July 1 and their second dose on July 22, according to the cards, despite July 22 still being two weeks away. Tinky-Winky and Laa-Laa received "Noo-nson & Noo-nson" vaccines – a play on Johnson & Johnson – while Dipsy and Po received "AstraTubbica."
Though the announcement received a lot of fanfare, with more than 225,000 likes and 46,000 retweets, many fans of the show were also bewildered by the stunt.
Several social media users questioned why the vaccination cards showed the Teletubbies as having been born six years after their show debuted, while others asked why Tinky-Winky and Laa-Laa had received two doses of a vaccine based on Johnson & Johnson – which fully vaccinates with just one shot.
One person was particularly disturbed that the announcement confirms the Teletubbies is set on Earth and that the characters are "susceptible to disease."
The post also received criticism for seemingly promoting the vaccination of children, when medical professionals are still debating whether vaccinating minors against Covid-19 has more benefits than risks. Opponents of the vaccine in general questioned whether the four fictional characters would receive some of the side effects recorded from Covid-19 vaccines, including blood clots, Bell's palsy, and myocarditis.
Think your friends would be interested? Share this story!
You can share this story on social media: