EU committees back post-Brexit trade deal with UK, but agreement still needs full European Parliament support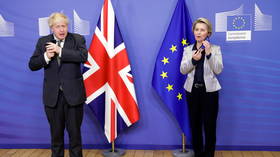 London and Brussels' post-Brexit trade and cooperation deal has secured a huge majority in a vote by the EU's foreign affairs and trade committees, paving the way for its full approval later this month.
Passed by 108 votes to one with four abstentions, the agreement must next be fully ratified by the European Parliament before the April 30 deadline in order for it to take effect permanently.
EU and UK negotiators finally agreed on the terms of the landmark treaty in late December after years of bitter talks, but throughout January it has only been applied provisionally.
Also on rt.com
UK delays response after EU launches legal action over Brexit deal breach
However, the European Parliament may not meet its April deadline to vote on the deal until the EU has deemed that the UK has made progress in implementing the Northern Ireland Protocol of the Withdrawal Agreement.
This would leave the UK and the 27-member bloc trading on World Trade Organization terms, which would include automatic tariffs on goods.
In February, the vice president of the European Commission, Maros Sefcovic, accused Britain of a "number of current shortcomings" over its implementation of the protocol in a letter to UK Cabinet Office Minister Michael Gove.
Also on rt.com
Belfast protests: Burning car rams into police line as nightly rioting continues (VIDEO)
Among the issues he cited was an alleged lack of border checks on livestock and plants entering Northern Ireland from the UK mainland.
Stringent checks on incoming goods from Great Britain are required under the Northern Ireland protocol, which is designed to prevent a hard border between Northern Ireland, which is effectively still in the EU's customs union, and the Republic of Ireland, which is a member of the bloc.
The border checks have been viewed by some in the Loyalist community of Northern Ireland as a 'sea border' cutting it off from the rest of the UK, heightening tensions in the region which has seen multiple nights of violent unrest this month.
Like this story? Share it with a friend!
You can share this story on social media: