Italian TV hosts mock Chinese and this racism would've gone unnoticed if not for social media… 'Because it's the Chinese, y'know'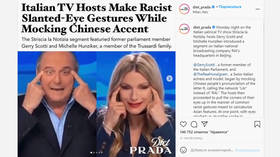 With millions of viewers of their satirical news show, Italian TV hosts Gerry Scotti and Michelle Hunziker chose to ignore the ongoing global discussion on racism by mocking the Chinese. It took a US Instagrammer to call them out.
Not that most people would ever admit to it, but certainly among the lingering symptoms of long-Covid lies an acceptance of racism towards the Chinese that would be considered almost criminally intolerable if directed at any other nationality.
The problems began when the two Italian television hosts of the long-running satirical 'Striscia la Notizia' (Strip the News) show aired by the private Italian network Mediaset made the childish, but racist, slant-eyed gestures and mocked the 'L' pronunciation of 'R' while presenting a piece on Italy's RAI TV.
Former Italian MP Gerry Scotti and his co-host, Swiss-Italian model Michelle Hunziker, were watched by around 4 million Italians but for some reason, never thought their actions might be offensive to any of their 310,000 fellow citizens who make up the largest Chinese population in Europe.
And weirdly, they might have escaped without any sort of censure had US-based Diet Prada, a hugely popular Instagrammer with around 2.7 million followers, not called them out. That's because Italian media was quiet on the actual display of racism broadcast across the nation's TV screens, only springing to life once the influential Instagram account decided not to let this one pass.
Posting on "the most feared Instagram account in fashion", Diet Prada duo Tony Liu and Lindsey Schuyler wrote, "It's so disturbing that these people continue to be on the forefront of the Italian mainstream media, watched by millions, millions who are influenced and informed by this behaviour and in turn go out into the world and perpetuate it."
And they're right. But the fact that the two hosts were not suspended or sacked immediately says something about attitudes towards the Chinese that hold true across many countries. Many Westerners seem to feel it's okay to be racist towards China or are at most ambivalent about the slurs; I know it's not right, but y'know, it's the Chinese.
Judging by his continued silence on the matter, Gerry Scotti agrees.
Meanwhile, Hunziger issued a humiliating Instagram apology of her own, saying, "It was absolutely not my intention to hurt the sensitivity of Chinese culture, I love all cultures and I am against all types of racism, all types of violence and all types of discrimination. But I can and I realize that I may have really hurt someone's sensitivity and for this I humbly apologise."
Grovelling on her belly, she even thanked Diet Prada "for holding me accountable". While this public self-flagellation might be enough to keep her job, no one is convinced.
Okay, she's sorry because someone pointed out the offence caused, but does anyone really believe she imagined this was racist at the time? I doubt it.
Currently wed to Tomaso Trussardi, head of his eponymous fashion label, Hunziger is the ex-wife of Italian pop idol Eros Ramazotti, who she divorced after escaping from the clutches of a brainwashing cult that held her in thrall for five years, convincing her she was the sister of Jesus and a Nazi bride.
Yep, true story. But while rich in life experience, Michelle is seriously out of pocket in terms of social awareness.
While her own conscience is clearly giving her a hammering, she and her co-host have so far escaped the attention of China's diplomatic wolf warriors who can usually be relied on to leap onto Twitter in defence of their national pride.
Maybe they're not fans. Maybe they don't care. Maybe they just think that this is exactly the sort of tiresome, routine racism they can expect from a suspicious, disrespectful and mistrustful Western democracy.
Like this story? Share it with a friend!
The statements, views and opinions expressed in this column are solely those of the author and do not necessarily represent those of RT.
You can share this story on social media: