London is burning? VIDEO presumed to show smoke rising over Houses of Parliament, firefighters tell media the alarm is false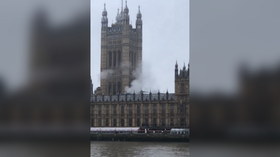 Video footage appeared to show smoke or steam rising from the Houses of Parliament in Westminster, as an alarm rang out in the background. However, firefighters reportedly declared the alarm false.
The footage, posted to Twitter on Sunday, shows thick white smoke or steam seemingly rising from London's Houses of Parliament. Some kind of alarm can be heard over the video.
A number of commenters on Twitter claimed that the video shows steam, not smoke, rising from the building. The London Fire Brigade later told TASS that reports of smoke were a "false alarm," and that it "was just steam" rising from the roof.
Less than a month ago, firefighters were called to Westminster after smoke was seen billowing up from Parliament. The London Fire Brigade blamed that incident on "a generator starting up," while Parliament said that the "smoke" seen coming from the building's roof was steam, which is more visible in cold weather.
Like this story? Share it with a friend!
You can share this story on social media: