Piers Morgan scorched after calling Millwall football fans 'idiots' for booing kneeling players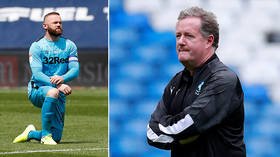 Piers Morgan slammed fans of Millwall Football Club who booed players for taking a knee in support of the Black Lives Matter movement during a Sunday Championship match against Derby, earning himself praise and pushback.
On Monday's Good Morning Britain, Morgan berated both the fans and UK Foreign Secretary Dominic Raab as "idiots" for taking a stand against the kneeling.
The host said the players' critics "don't know what they are talking about," referring to the fact that Raab had in the past said the gesture to take a knee seemed to have come from the fantasy TV show 'Game of Thrones'.
Morgan schooled the critics, pointing out that it was US Army Green Beret Nate Boyer who had suggested kneeling as an appropriate form of protest against police brutality to NFL player Colin Kaepernick who popularised it in 2016.
"Dominic Raab, I'm sorry, is an idiot who didn't know what he was talking about," the host said, adding, "And because he's said that, everyone believes it who wants to believe it. It reinforces, it's a dog whistle to these idiots down at Millwall."
The GMB host then concluded by saying he "knows not all" Millwall fans are the same. "And I simply say to them – 'is this what you want your club to be?'"
Morgan's stance turned out to be highly controversial on social media, as many said that Britons were "sick to death of BLM" and the host was "out of touch with the majority of public opinion."
Others thought Morgan misunderstood the issue entirely, saying that the booing had "nothing to do with racism," as fans were ostensibly booing "ridiculous" support for BLM as a political movement that is "invading sport."
Some commenters, however, were surprised to agree with Morgan, often seen as an opponent of social justice causes. "Why can't people let others show their beliefs without trying to shout them down?" pondered one person.
Others who shared Morgan's point of view even thought that the players didn't go far enough and "should have refused to play" to "make a stand" against the booing fans.
Millwall defender Mahlon Romeo said he felt "personally disrespected" after the crowd booed both teams at the beginning of the first game fans could attend during the pandemic.
Also on rt.com
'It is a political movement': British minister in row as fans boo 'divisive woke politics' of Black Lives Matter kneeling (VIDEO)
Think your friends would be interested? Share this story!
You can share this story on social media: