We have begun to wrestle it to the floor: PM Johnson is 'back in the driving seat,' and he is in for a bumpy ride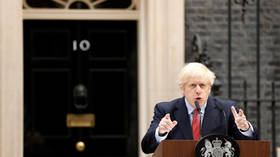 British Prime Minister Boris Johnson has re-emerged following a weeks-long battle with Covid-19, but the "war" on the coronavirus is far from being won. Johnson faces numerous challenges, most notably when to reopen the economy.
Earlier on Monday morning, junior health minister Edward Argar vowed that Johnson "will be back in the driving seat" and "getting on with the job." Johnson has declined to give any specific dates regarding the easing of lockdown restrictions or a return to work for the world's fifth-largest economy.
Johnson expressed concern about "a new wave of death and disease as well as an economic disaster," saying that he refuses "to throw away all the effort and sacrifice" the British people had made, specifically the staff of the NHS.
Johnson is set to resume his full duties and chair a so-called "war cabinet" to guide the UK through the ongoing coronavirus crisis, amid reports that the country's lockdown could be extended even further.
Also on rt.com
Downing Street hints Covid-19 lockdown restrictions in the UK could last until 2021
Monday's press briefing marked Johnson's first public appearance since posting a video to Twitter on April 12, in which he thanked the staff at St Thomas' Hospital for saving his life.
Johnson made repeated references to the nationwide lockdown which has been in place since March 23, calling for patience from the entire population.
In spite of these pleas for calm and for civil obedience to help "protect the NHS," Johnson's government must decide whether to prolong, and possibly modify, the quarantine rules before the May 7 deadline, when it is legally obliged to announce the results of its review of the current restrictions.
The coronavirus has already claimed more than 20,000 lives in British hospitals, but the sad statistic – which the government has described as "a tragic and terrible milestone" – does not even reflect the full picture, since non-hospital coronavirus death tallies will take longer to collect and publish.
Even without the complete statistics, the UK has the world's fifth highest Covid-19 death toll, after the US, Italy, Spain and France. The number of people infected nationwide, meanwhile, has surpassed 154,000.
Health Secretary Matt Hancock previously set the ambitious goal of conducting as many as 100,000 coronavirus tests a day by the end of the month. Now, Johnson's government has just three days to reach that target.
Also on rt.com
If the UK government brings in a new round of austerity to pay for Covid-19, it'll spark civil unrest that will see cities burn
Think your friends would be interested? Share this story!
You can share this story on social media: