London's mayor says Indian businesses & students 'deserve preferential treatment'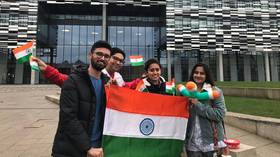 The UK needs direct investment and bright minds from India, London's mayor said, slamming the government's "hostile" immigration policies and calling for "preferential treatment" for former subjects of the British empire.
"The government's got to make it easier for businesses to come to London. Immigration policies have got to change, it's got to be easier for Indian students and business people to come here," London Mayor Sadiq Khan said on the sidelines of the Asian Voice Charity Awards on Friday.
Last July, the UK made changes to its immigration rules, making it easier for Chinese students to enroll and study at British universities. To ease the process of obtaining a Tier 4 student visa, the government dropped the requirement to provide evidence of finances and English language proficiency. While China was added to the list of beneficiaries, which already comprises a few dozen countries, India was not awarded the same benefit, despite being ruled by the British from 1858 to 1947.
Also on rt.com
Between moral & legal: UK threatens Indian woman IN COMA with deportation
"The government has made some changes to make it easier for China, and I welcome that, but also India deserves the same sort of preferential treatment," Khan, whose parents came from Pakistan, said.
Like this story? Share it with a friend!
You can share this story on social media: