Final throw of the dice for May? UK MPs to vote on Brexit deal for fourth time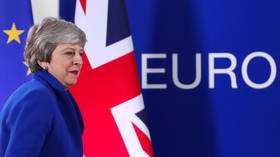 Theresa May has announced that she will bring her Brexit deal back to Britain's parliament, for lawmakers to vote on for a fourth time, in the first week of June. Will it prove to be her final move as prime minister?
They say the definition of insanity is doing the same thing over and over again and expecting a different result, but it seems to have been the prime strategy for May, the beleaguered Tory leader.
Following another round of cross-party talks with the Labour Party on Tuesday night, Downing Street issued a statement to reveal details of yet another Brexit vote.
We will [therefore] be bringing forward the Withdrawal Agreement Bill in the week beginning the 3rd June.
Also on rt.com
Tory-Labour Brexit talks on the edge? Ex-cabinet members ramp up pressure on May
How did we reach this point?
Essentially, UK MPs have rejected May's Brexit plan three times since she first put it to a vote in January – losing by 230 – the largest defeat of a government motion in 100 years.
Subsequent rejections of the deal then came in March, much to the embarrassment of the prime minister. It meant the UK failed to leave the EU on the scheduled day of departure – March 29, to the fury of arch-Brexiteers in Westminster and around the country.
Why has May's Brexit deal failed to win support?
There are a number of groups within the walls of Westminster that have their own reasons as to why they cannot back this Brexit agreement.
DUP-ERG alliance & Irish 'backstop'
The Democratic Unionist Party – the UK government's Northern Irish 'confidence-and-supply' partners – have repeatedly refused to back a Brexit deal that includes the fallback customs union solution, the 'backstop.'
They argue, such a proposal would mean Northern Ireland being treated differently to the rest of the UK and remaining in a customs union with the EU indefinitely.
The European Research Group, which consists of a large bloc of around 40 Tory Brexiteers, headed by Jacob Rees-Mogg, has remained loyal the the DUP's Brexit position. Such loyalty has KO'd May's deal thus far.
Labour
Despite their own divisions over Brexit, Jeremy Corbyn's democratic socialist party has remained largely united in rejecting May's Brexit plan. Labour's main demand is for a permanent customs union that cannot be ripped up by a Brexiteer, such as Boris Johnson, the moment May steps down.
The dilemma for May is that if she cedes ground on this issue, it will cost her party with a likely backlash from disgruntled Euroskeptic Tory MPs. A number of influential former cabinet ministers, including Johnson and David Davis, warned her in a letter on Tuesday to reject a customs union deal with Labour.
What happens if May's Brexit deal is rejected for the 4th time?
It does have the feel of end of days for Theresa May as prime minister. The powerful Tory 1922 committee, chaired by Sir Graham Brady, has scheduled a meeting with her on Thursday.
It has been reported that she will be asked to give clarity on the date of her own departure from office. The announcement that the EU Withdrawal Bill is to return to the House of Commons, has probably put paid to any drastic moves to remove May before the beginning of June.
Asked whether the next Brexit vote, scheduled for the week commencing June 3 could be a confidence vote in May, a Downing Street spokesperson failed to explicitly deny this could be the case.
That's not the world we're currently in but clearly the significance of this piece of legislation can't, and won't, be underestimated.
NEW: Downing Street effectively admitting the withdrawal bill could be a confidence vote in the PM. "That's not the world we're currently in but clearly the significance of this piece of legislation can't, and won't, be underestimated," says spox.

— Pippa Crerar (@PippaCrerar) May 15, 2019
If May resigns in early June as a result of failing to get a key piece of legislation through parliament, then expect a pro-Brexit Tory to take the reins. The EU Parliament elections, which take place on May 23, could provide the perfect litmus test on where public opinion is on Brexit.
All recent polling points to victory for Nigel Farage's Brexit Party which has eaten into support for the Conservatives and his former party UKIP. Failure to elect a leader that is unashamedly pro-Brexit could see the party split.
One Tory MP has reportedly predicted such a scenario is likely, telling Sky News' Lewis Goodall: "The Tory party is almost certainly going to split. The only question is which side inherits the carcass."
Gloomy conversation just now with a Tory MP: "The Tory party is almost certainly going to split. The only question is which side inherits the carcass."

— Lewis Goodall (@lewis_goodall) May 15, 2019
A number of high profile names have put their names into the hat to become the next Tory leader. The immediate dilemma they'll face is whether to take the UK out of the EU on October 31 without a deal, risking ire from EU remainers, or do they call a general election in a bid to gain a mandate from the electorate for such a bold move.
Think your friends would be interested? Share this story!
Subscribe to RT newsletter to get stories the mainstream media won't tell you.
You can share this story on social media: