New IRA claims responsibility for journalist's death in Northern Ireland, apologizes to her family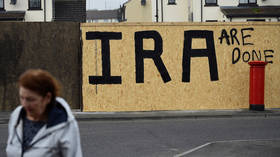 The self-styled New IRA has offered its "sincere apologies" to the family and friends of Lyra McKee, an investigative journalist shot and killed in a skirmish between police and nationalists in a Northern Irish city last Thursday.
McKee was shot by a gunman while she was covering riots in Derry last week. The 29-year-old journalist, known for her work for the BBC, the Atlantic and Buzzfeed, was taken to hospital with gunshot wounds and succumbed to her injuries shortly afterwards.
In a statement carried by The Irish News on Tuesday, the New IRA claimed that it had not intended to kill the journalist, who, according to the group, got caught in crossfire during their clash with the security forces.
Also on rt.com
Woman shot dead in Northern Ireland was journalist who covered violence there for years
"In the course of attacking the enemy Lyra McKee was tragically killed while standing beside enemy forces," the statement reads. "The IRA offer our full and sincere apologies to the partner, family and friends of Lyra McKee for her death," it added.
The group said it had deployed "volunteers" to repel an "incursion" by "heavily armed British crown forces" which had sparked riots in the Creggan area, and promised to "take the utmost care in future when engaging the enemy, and put in place measures to help ensure this."
McKee's killing sparked protests against dissident republican group Saoradh, believed to be a political wing of the New IRA, a paramilitary organization and one of the original IRA (Irish Republican Army) splinter groups that does not recognize the 1998 Good Friday Agreement.
On Monday, Saoradh's chairman urged the New IRA to assume responsibility and apologize for McKee's death.
READ MORE: IRA claims responsibility for UK parcel bombs – police
McKee was a prominent investigative journalist, having been included in Forbes' Magazine's 30 under 30 in media in 2016. Her work largely focused on nationalism-instigated violence in Northern Ireland.
The New IRA has become notorious for a series of violent attacks. Last month, it claimed responsibility for a spate of parcel bombs sent to buildings in London and Glasgow. Two of the devices were intended for army recruitment offices.
Subscribe to RT newsletter to get stories the mainstream media won't tell you.

You can share this story on social media: