Woman shot dead in Northern Ireland was journalist who covered violence there for years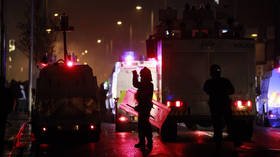 A "terrorist incident" in which a young woman died took a further tragic twist when the victim turned out to be a promising journalist who had reported on the long-term violence in Northern Ireland.
"Derry tonight, absolute madness" were Lyra McKee's last words on social media before being gunned down in the Northern Irish city on Thursday. Fire from petrol bombs can be seen in a photo she posted as clashes between security forces and nationalists turned into chaotic violence.
A journalist has been killed covering riots in Derry. Her name was Lyra McKee. She was 29. She recently signed a two-book deal with Faber, who called her a "rising star of investigative journalism". This is her last tweet, sent from the scene of the unrest. pic.twitter.com/0gk1Fa7Du0

— Naomi O'Leary (@NaomiOhReally) April 19, 2019
McKee was an editor at Mediagazer, a trade magazine focusing on the media industry. She also worked as a freelance journalist for several outlets including the BBC, The Atlantic and Buzzfeed. In 2016 she was named one of Forbes' Magazine's 30 under 30 in media and just last year, an article described her as a "rising star" of investigative journalism.
"Unfortunately, at 11pm last night, a gunman appeared and fired a number of shots towards police and a young woman, Lyra McKee, 29 years old, was wounded," Assistant Chief Constable Mark Hamilton told the press.
ACC Mark Hamilton says 'our thoughts are very much with the family & friends of Lyra McKee'. He says her murder 'demonstrates all too starkly when terrorists bring violence & guns into the community members of the public are placed in severe danger'. pic.twitter.com/qwUTUTFeTy

— PSNI DC&S District (@PSNIDCSDistrict) April 19, 2019
McKee later died in the hospital from the gunshot wounds, and now police are launching a murder investigation.
Police say the New IRA, a group of "violent dissident Republicans," are likely responsible for the killing. This weekend is the anniversary of the 1916 Easter Rising, a day when conflict traditionally flares up in Northern Ireland as Republicans mark the first significant armed uprising in the fight for independence from Britain.
Also on rt.com
'Terrorist incident': Journalist gunned down during riot in Derry, Northern Ireland (VIDEOS)
McKee had written a novella based during a period of heightened violence in Ireland known as "the Troubles" – 30 years of clashes that left some 3,000 dead.
Think your friends would be interested? Share this story!
You can share this story on social media: