'Terrorist incident': Journalist gunned down during riot in Derry, Northern Ireland (VIDEOS)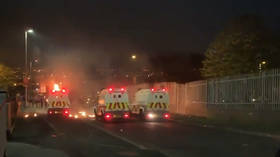 A journalist has been killed in clashes between dissident nationalists and security forces in Northern Ireland. The suspected terrorist incident occurred hours after US House Speaker Nancy Pelosi toured Derry on a goodwill visit.
The victim has been named as 29-year-old Lyra McKee from Belfast. She tweeted a picture of the disturbances shortly before her death, saying: "Derry tonight. Absolute madness."
Also on rt.com
Woman shot dead in Northern Ireland was journalist who covered violence there for years
Rioting in Derry (also known as Londonderry) turned parts of the city into a war zone on Thursday night, with Molotov cocktails and various other objects being thrown at police by masked protesters. Police said a 29-year-old woman was killed after shots were fired in the Creggan area of the city.
"We are treating this as a terrorist incident and we have launched a murder inquiry," said Assistant Chief Constable Mark Hamilton of the Police Service of Northern Ireland (PSNI).
The clashes with dissident Republicans followed a major security operation in the city which took place just days before nationalists in Ireland mark the 1916 Easter Rising – the historic rebellion that led to the end of British rule in most of Ireland.
The deadly riot also occurred just hours after US Speaker of the House Nancy Pelosi symbolically crossed Derry's Peace Bridge and spoke of America's support for the Good Friday Agreement, which has brought sustained peace to the turbulent British-controlled region.
Think your friends would be interested? Share this story!
You can share this story on social media: