Internet watchdog, blocks & fines: UK outlines plans to protect citizens from all 'online harms'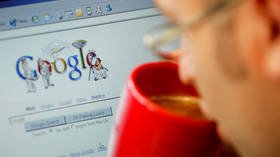 The UK has proposed a set of measures to regulate the internet by obliging tech giants to 'protect' users from 'harmful' content, with a watchdog blocking inappropriate websites and slapping fines on those refusing to cooperate.
The proposals, outlined in a white paper by the Department for Digital, Culture, Media and Sport, call for creating a new, independent watchdog (or granting sweeping powers to an existing one, like Ofcom) to monitor online traffic and, if necessary, to block access to websites.
Also on rt.com
UK to set up new internet regulator to monitor 'hate speech' and enforce 'code of conduct' – report
Besides eying "substantial" fines for non-compliance, lawmakers also want to see annual transparency reports from tech companies, and a full itinerary on how they addressed the dissemination of any harmful content. The regulator will also be empowered to hold individual executives of technology firms responsible if they fail to comply.
The new regulations, proposed on Monday, are needed to battle rising concerns over the growth of violent content and disinformation, the government claims, insisting that young people must be shielded from the dangers of a virtual world that encourages suicide, cyberbullying, and inappropriate behaviors.
"For too long these companies have not done enough to protect users, especially children and young people, from harmful content," Prime Minister Theresa May stated, endorsing the proposals.
Also on rt.com
Why UK report on 'digital gangster' Facebook is a thinly veiled call for censorship
While the British government's initiative was welcomed by campaigners for safer internet use, some had concerns about the prospects of greater censorship. Matthew Lesh, head of research at the Adam Smith Institute, a UK-based neoliberal think tank and lobbying group, earlier argued that such a move would be an attack on "freedom of speech and the free press."
Lesh suggests it would be hypocritical of Britain to impose such restrictions, when the UK government criticizes alleged violations of freedom of expression in countries such as China, Russia, and Iran.
Britain will no longer be called a free society if her citizens and her press are directed by Government as to what they can view, think and say.
The suggestions on curbing harmful online content still need to go through a 12-week consultation process. Silicon Valley firms Twitter and Facebook have already said they are ready to work with the UK government to address its concerns.
Like this story? Share it with a friend!
You can share this story on social media: