UK Police ready 10,000 riot officers as fears Brexit tensions could worsen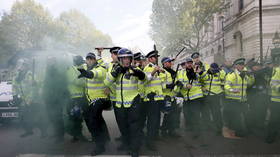 Thousands of police officers trained in quelling disorder during civil unrest are standing by to be deployed in the event tensions over Brexit overspill into violence on the streets of Britain, according to a top police chief.
The head of the National Police Chiefs Council, chief constable Charlie Hall, has revealed that at least 10,000 officers have been amassed, trained in tactics to stop looting. It's a greater number than was deployed during the riots that blighted England in the summer of 2011.
Hall claims that reinforcements for local police could begin within an hour of a request and take up to eight hours to fully deliver, insisting "We would easily run at that pace for the first seven days."
Also on rt.com
British police call railway sabotage attempts 'Brexit-related'
It comes as concerns are being raised that rhetoric surrounding the Brexit debate could be contributing to inflaming tensions.
Martin Hewitt, chair of National Police Chiefs Council, has issued a warning that "prominent individuals" should avoid inciting anger given the "febrile" and "emotive" atmosphere currently enveloping Britain.
Up to 1,000 officers are being trained in case Northern Ireland requires reinforcements, with mainland police constables being taught specific tactics needed in the region.
Hall said 15 out of 43 police forces in England and Wales had placed some restrictions on leave. He revealed there had been 37 Brexit-related crimes in the last two weeks, half of which were malicious communication, with other offences including harassment and verbal abuse.
Also on rt.com
'Laughing while country burns!' Brits fume on Twitter as MPs laugh and joke during Brexit debate
Like this story? Share it with a friend!
Subscribe to RT newsletter to get stories the mainstream media won't tell you.
You can share this story on social media: