Fury as UK school book shows pregnant woman with 'porn star' Brazilian pubic hair (PHOTO)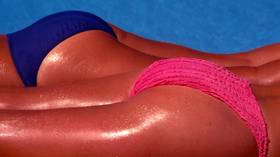 Furious parents have taken to both Twitter and Mumsnet to decry a science revision textbook which featured an illustration of a pregnant woman with a 'Brazilian wax' pubic hair style.
The diagram, which appeared in a 2017 GCSE book, has been described as "porn film" pubic hair by users who worried that it would reinforce dangerous gender stereotypes in impressionable children going through puberty.
"I would have been okay with no hair at all, as it is largely an internal diagram, showing the baby. But to show hair, but groomed into a tiny strip, sends such a damaging message," Funkyfunkybeat wrote on Mumsnet, a popular online forum.
Publishers Pearson Edexcel claim that the offending image at the heart of the current swarm of scorn was removed in the May 2018 reprint of the GCSE biology textbook.
"Clearly, we did not mean to cause offence with the original version and we would be happy to provide the updated version free of charge to any student or teacher who would like a replacement," the publisher said in a statement.
Also on rt.com
Hairy situation! Sexually transmitted infections spread by pubic waxing, warn doctors
Alas, too late to escape the ever-watchful eyes of concerned parents.
Brazilian waxes, where all hair is removed except a narrow "landing strip," were reportedly popularized in the 1990s by the J Sisters, who set up a salon and waxing studio in New York. The minimalist approach to pubic hair was then further popularised through popular culture, most notably in magazines like Playboy.
Not all online agreed that the cartoon pubic hair was sufficient cause for offense, generating a lively discussion on Twitter.
Like this story? Share it with a friend!
You can share this story on social media: