JK Rowling among secret breakaway Labour group 'planning new anti-Corbyn party'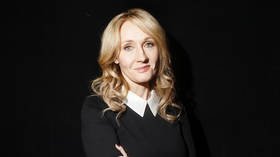 Harry Potter author JK Rowling was reportedly among a select group attending a secret meeting about creating a new party to breakaway from Labour after becoming dissatisfied with Jeremy Corbyn's leadership.
Rowling attended the meeting with about 50 others, including TV presenter Rachel Riley, at the offices of the author's agent, Neil Blair, according to a report by the Mail on Sunday. The paper said the newly-formed party does not yet have a name or a designated leader.
An invitation to the event reportedly asked "potential supporters" to attend an evening drinks reception on Tuesday, February 5 for a "new political movement that Britain desperately needs."
Also on rt.com
Top HRW official accuses Israel of meddling in UK, gets called 'anti-Semitic conspiracy theorist'
"Britain is stuck. The promise that the next generation will be better off than their parents is broken. Inequality is tearing the country apart," the invitation read.
"Housing is too expensive, earnings are static and the quality of work is too poor for too many. The world is changing fast and we're retreating from it, the old parties cannot face the future because they have run out of answers, energy and leadership."
READ MORE: 'Inaccuracies & distortions': UK media savaged over Labour anti-Semitism row in new report
The invitation apparently stated that the pro-European initiative was led by Tony Blair's former chief of staff Jonathan Powell, and Philip Collins, the former PM's speech writer. The pair reportedly emphasized a need for a new centrist movement to attract people with a nuanced approach to politics.
Rowling has been prominent supporter of the Labour Party in the past, having donated large sums of money to the party. Riley, who is Jewish, has complained of suffering abuse from Labour supporters for criticizing Corbyn's handling of party's anti-Semitism row.
Also on rt.com
Social media users mock Mail on Sunday's article calling Corbyn a 'dangerous hero'
Like this story? Share it with a friend!
You can share this story on social media: