Social media users mock Mail on Sunday's article calling Corbyn a 'dangerous hero'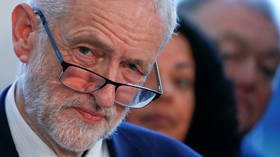 A series of Daily Mail articles claiming to reveal Labour leader Jeremy Corbyn's "extremist views" and evidence of both his laziness and ruthlessness is being mocked as social media users list all the ways he is a #DangerousHero.
The dramatic articles published in the Mail on Sunday are based on content from a book by Tom Bower called 'Dangerous Hero: Corbyn's ruthless plot for power', and contain some "horrifying" tid-bits such as the fact Corbyn can't even tell the difference between Tesco and Heinz baked beans, and that he "found no pleasure in medieval towns," both well-established indicators of a dangerous, ruthless personality.
Despite jaw-dropping reveals such as the fact that Corbyn "never talked about buying a bigger home or car or increasing his income," and isn't a big enough fan of Arsenal football team, the multiple articles failed to have had the desired effect, with social media users mocking its content, and even claiming it made the Labour leader more attractive.
People cited the ways they think Corbyn really is a dangerous hero and some said he was only "dangerous" to the one percent of the population with the greatest wealth.
Others pointed to examples of Corbyn coming to the defense of professor Ralph Miliband attacked by the Daily Mail and his own recent handling of a question from the outlet's reporter suggesting he seeks revenge for unfavourable coverage..
Some social media users presented evidence of their own to suggest author Bower is racist, and fired shots at the Mail.
Like this story? Share it with a friend!
You can share this story on social media: