Theresa May says 'door remains open' for Jeremy Corbyn to join Brexit crisis talks (VIDEO)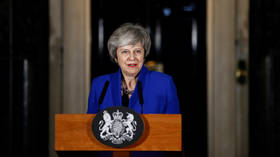 British PM Theresa May says she has held "constructive" talks with most of parliamentary leaders after surviving a no-confidence vote over the Brexit deal. Labour leader Jeremy Corbyn, who had tabled the motion, was not present.
Corbyn has previously said that he would consider participating in the cross-party talks proposed by May only if the no-deal Brexit option is ruled out.
"Now that Theresa May's botched deal has been decisively rejected, the starting point for talks to break the Brexit deadlock must be that No Deal is taken off the table," Corbyn tweeted as the first series of talks kicked off at 10 Downing Street.
In a brief statement after the talks, May said that she spoke to the Scottish National Party (SNP), Liberal Democrats and Plaid Cymru, while expressing disappointment that Corbyn had chosen not to take part in the discussions. The "door remains open" for the Labour leader to join the talks, May said.
Corbyn has been on offensive against May since her Brexit plan's crushing defeat in the Commons on Tuesday. May's plan was rejected by 432 votes to 202, with some 100 conservative MPs joining the opposition in voting it down, in the biggest defeat for a sitting PM in UK history.
Corbyn tabled a motion of no confidence, calling for May to resign and advocating snap elections. However, the government narrowly survived the vote, winning 325 to 306 with the backing of the Democratic Unionist Party (DUP) from Northern Ireland.
Also on rt.com
Theresa May's government survives no-confidence vote (VIDEO)
Calling the developments of the past days "unsettling," May stressed that she has been focused "on finding a way forward on Brexit," calling on the MPs to "put self-interests aside" and deliver on the will of the people.
The Prime Minister said that she was going to hold another round of talks with senior government representatives and MPs from other parties, including the DUP, her ally in the minority government.
If you like this story, share it with a friend!
You can share this story on social media: