'It's mine, my own, my Brexit!': Gollum actor reprises role to deride Theresa May (VIDEO)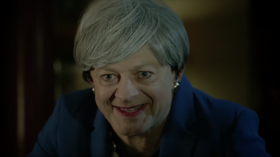 British actor Andy Serkis has reprised the creepy Lord of the Rings character 'Gollum' to deride British Prime Minister Theresa May and her widely-panned Brexit deal, providing some wistful fun in an otherwise bleak time.
Serkis, famous for providing the voice of Gollum in Peter Jackson's adaptation of the Lord of the Rings by JRR Tolkien, appears in a blue 'power' jacket, grey wig and painted nails using the Gollum-Smeagol divide within the fantasy character to convey the highly-conflicted nature of the British public's attitude to the recent Brexit draft deal (or the entire concept on the whole).
The roughly three-minute parody imbues May with all the sinister gurgling and spittle of the fantasy character who symbolized the corrupting power of power itself (though it is not yet known if Theresa May is in possession of a magical ring which can make the Irish backstop issue disappear).
"Our agreement. This is it. Our deal! Yes. We takes back control - money, borders, laws… blue passportses," rejoices 'Gollum-May,' irrespective of the widespread unpopularity of the deal across both sides of the aisle.
"No, it hurts the people! Makes them poorer," argues 'Smeagol May.'
The video was produced by a grassroots campaign called The People's Vote which is advocating for a second referendum on Britain's withdrawal from the EU.
The British Parliament will vote on Tuesday to decide the fate of the current proposed deal and speculation is rife that potential political rivals within the Tory party are preparing for the possibility that May could stand down if she suffers a heavy defeat on Tuesday.
Also on rt.com
Boris Johnson's new haircut fires up rumor mill about Tory leadership challenge (PHOTOS)
Hardline Brexiteers held a march in opposition to the current iteration of the divorce deal with the EU, which must be finalized by March, in east London on Sunday.
Like this story? Share it with a friend!
You can share this story on social media: