Jewish professor labelled 'Nazi who should be raped' after UK gender legislation debate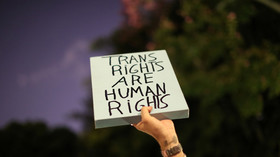 A Jewish university professor says she has been called a "Nazi" who "should be raped" and had her office door "covered in urine," after taking part in the UK government's debate on proposed gender law changes.
Women's rights expert, Professor Rosa Freedman, from the Reading University, has told the BBC that she fears for her safety after receiving a torrent of online abuse and anonymous phone calls. She claims the abuse happened after she raised concerns about how the potential changes might affect women's rights.
I found my office door covered in urine, including some that had seeped under the door, and I spent time cleaning it up because I could not bear the smell or the shame of what had happened. Last week I discovered criminal damage explicitly encouraging me to leave the University

— Rosa Freedman (@GoonerProf) December 5, 2018
The human rights lawyer, who has argued against self-identification, participated in the government debates on planned changes to the Gender Recognition Act. The professor says that after taking part, she found her door covered in urine, as well as receiving highly abusive messages online and in anonymous phone calls.
READ MORE: Trans rights and feminist groups in row over changes to UK's Gender Recognition Act
Prof Freedman stated: "I'm pretty public and open about the fact that I'm Jewish. I'm pretty public and open about the fact I've survived sexual violence – I have been throughout these debates.
"So, obviously being told I'm a Nazi and being told I'm transphobic when I'm not transphobic and nothing I've said or done is transphobic… having been told I should get raped. None of them are particularly pleasant."
Prof Freedman is one of a number of academics who has called for sex and gender to be defined differently in law, which could mean transgender women being barred from using 'women's only' toilets or prisons, the Daily Mail reports.
She has criticised other colleagues of hers in the academic world who have called her a 'bigot' and accused her of possessing 'transphobic' views, which she argues, has emboldened trans-activists to overstep the mark. Prof Freedman insists students have every right to protest but must so peacefully.
These students have every right to peacefully protest, which is a legitimate part of freedom of expression. The ones I am concerned about are those who cross the line. I put that thread up last night because the only way to push back against anonymous abuse is to name-and-shame https://t.co/BnZsTzT2wP

— Rosa Freedman (@GoonerProf) December 5, 2018
A spokesperson for Reading University said Prof Freedman had "worked extensively throughout her career on the rights of women and the LGBT community."
"We explicitly respect the right of our trans staff and students to self-identify their gender. This is entirely consistent with our strong defence of the principle of academic freedom and the role of universities and academics in public debate," they added.
Think your friends would be interested? Share this story!
Subscribe to RT newsletter to get stories the mainstream media won't tell you.