Nigel Farage quits UKIP over party's ties to Tommy Robinson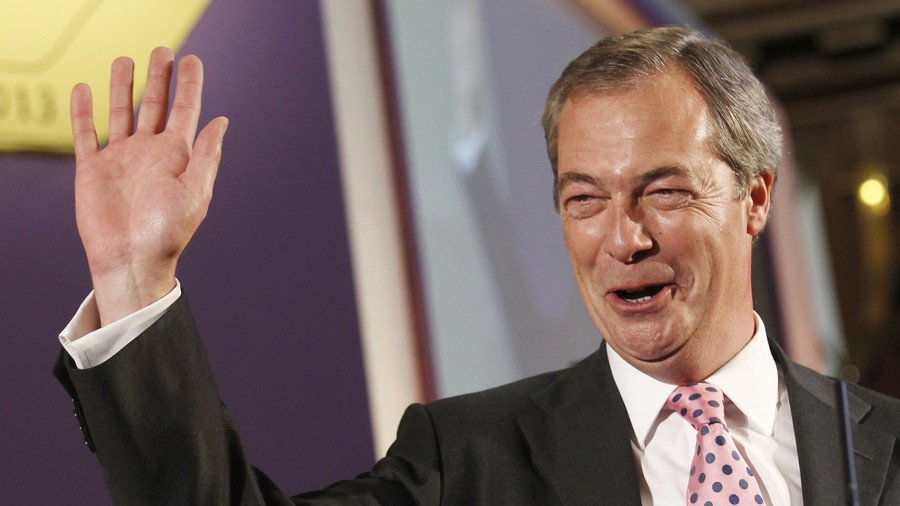 UKIP founding member Nigel Farage has cut his ties with the party, accusing its leadership of trying to court "extremists" like English Defense League founder Tommy Robinson.
"With a heavy heart, I am leaving UKIP," Farage said on Tuesday. "It's not the Brexit party our nation so badly needs."
In his farewell op-ed, published in the Telegraph, Farage accused the party of trying to bring in "extremists," describing the party in its current state as "obsessed with Islam and Tommy Robinson."
Speaking later on his radio show on LBC, Farage warned that continued association with Robinson would tarnish the party's reputation, and give the anti-Brexit lobby a convenient punching bag "for years to come."
Since Farage resigned as UKIP leader in 2016, the party has sought to win over a younger, more dynamic demographic. Current leader Gerard Batten welcomed a cohort of right-wing internet personalities into the party this year, including Infowars' Paul Joseph Watson, Mark 'Count Dankula' Meechan, and Carl Benjamin, aka Sargon of Akkad.
Tommy Robinson – real name Christopher Yaxley-Lennon – was appointed an "advisor on prison reform and rape gangs" by Batten last month. Farage was not the only senior UKIP figure to jump ship after Robinson's appointment, as former Deputy Chairwoman Suzanne Evans quit the party on Monday, citing the "perverse direction" Batten was steering it in.
Farage echoed Evans' criticism in his radio clip on Tuesday, saying that the Batten "has been dragging Ukip away from being an electoral party into a party of street activism... and turning a blind eye to extremist politics."
Batten survived a no-confidence vote held by the party's National Executive Committee on Monday, and is now set to lead a Brexit march in London on December 9, an event that Robinson will likely feature prominently at. Farage described the optics of the march, which will take place two days before British MPs vote on PM Theresa May's final Brexit deal, as "something our enemies will use against us for many years to come."
Think your friends would be interested? Share this story!
You can share this story on social media: