'Tactical contact': UK police reveal ramming tactics to end moped crime epidemic (VIDEO)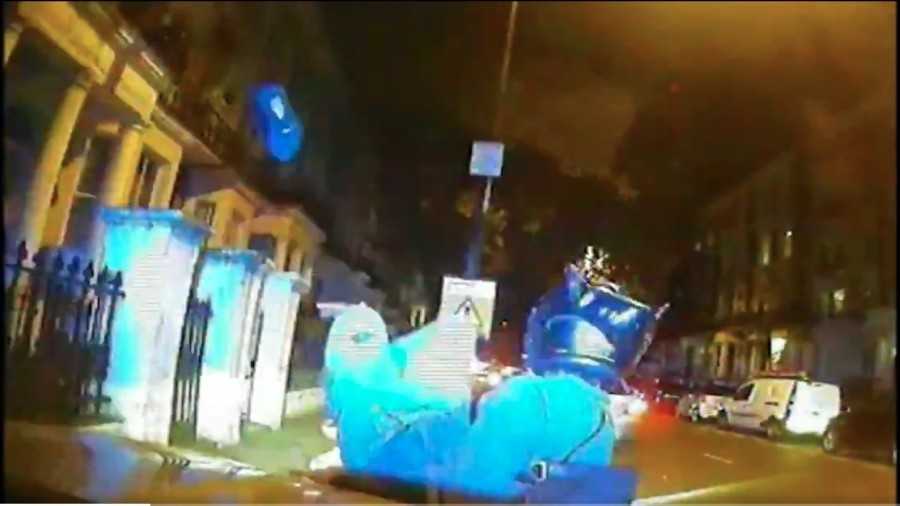 As part of efforts to tackle a scourge of moped crime in the capital, London's Metropolitan Police have implemented a new pursuit policy – knocking criminals off their bikes even if they aren't wearing a helmet.
Dubbed "tactical contact," the measure was revealed in a video posted by the force on Friday. It is one of a slew of tactics implemented by Scotland Yard to deter would-be moped criminals, including DNA forensic tagging and the use of automatic tire deflation devices.
Dramatic dashcam footage collected from Met police cars shows officers in hot pursuit of the escaping moped thieves, ramming the biker at the right moment and sending them sprawling out into the street. Some criminals continue to flee on foot while others stand up stunned from the collision.
Since police have started using "tactical contact" in 2018, there has been 7,036 fewer crimes carried out by London's moped thieves when compared to 2017, a drop of 33%, police announced.
Law enforcement had previously been reluctant to take such a head-on approach when tackling moped criminals. Officers feared being jailed or sacked if a rider was seriously injured in a high-speed chase, while criminals playing on this anxiety often discarded their helmets in the belief that they wouldn't be followed.
Last year, the Police Federation which represents rank-and-file officers, instructed members not to pursue criminals because the law would not be able to protect them if something went wrong. In response, the government has backed legal protections for officers in such cases.
For the time being, the current tactic is primarily used by highly-trained "scorpion" drivers assigned to the Operation Venice team, a task force set up by the Met to specifically target the city's moped crime epidemic. However, cases where the use of "tactical contact" is deemed inappropriate are investigated by the Independent Office for Police Conduct (IOPC), a watchdog.
READ MORE: Man becomes latest victim of London's knife crime epidemic following Night Tube stabbing
Moped crimes had reached epidemic levels, increasing 30-fold in the course of the past 5 years. Police recently released statistics showing that over 60 moped muggings were reported every day last year, as criminals targeted victims' wallets, purses and cell phones before mounting quick escapes by bike.
There have been several high-profile incidents, including when a gang targeted former UK Chancellor of the Exchequer George Osborne. The minister was lucky, though, as criminals were unsuccessful in their endeavor to nab his cellphone and were eventually caught, ending their spree.
Think your friends would be interested? Share this story!