WW2 code-breaking Enigma machine deconstructed to reveal its secrets (VIDEO)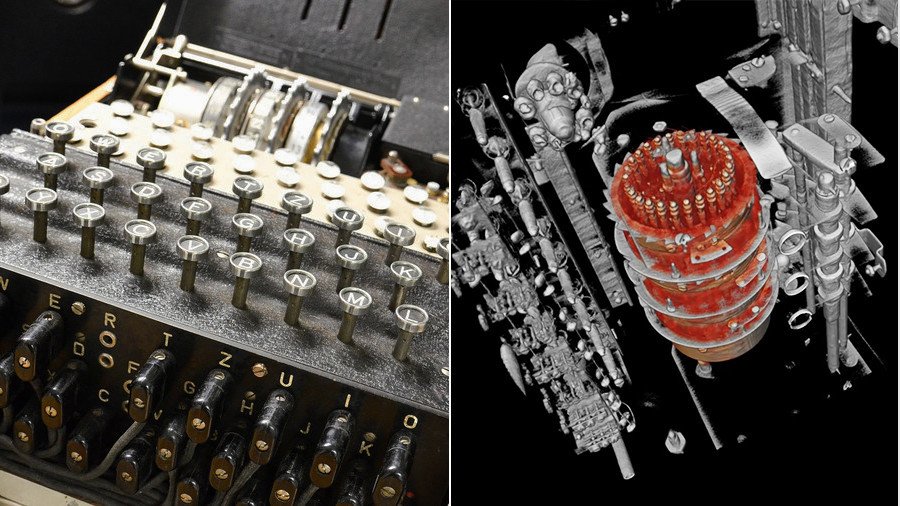 The infamous Enigma machine used by the German military in World War II, and finally cracked by Britain's Alan Turing, has been taken apart by scientists using X-ray Computed Tomography (CT).
The tech brings us inside the machine, showing its wiring and the structure of the rotors that encrypted top secret messages in the 1940s, until mathematician and computer scientist Turing cracked the code along with his team at England's Bletchley Park – now a WWII code-breaking museum.
READ MORE: London's Hyde Park partly evacuated after unexploded WW2 bomb discovered
Scientists at the University of Manchester, and the Henry Royce Institute for Advanced Materials, took more than 1500 separate X-ray radiographs, which were then reconstructed to create a virtual 3D replica of the iconic machine.
Using CT to delve into the machine has meant a unique view of the inner works of the intricate device, without causing it any damage.
Made in Berlin in 1941, this device is the latest Enigma machine to be verified and is one of only 274 registered.
Like this story? Share it with a friend!
You can share this story on social media: