Woman launches shocking tirade at flight crew after they deny her more booze (VIDEOS)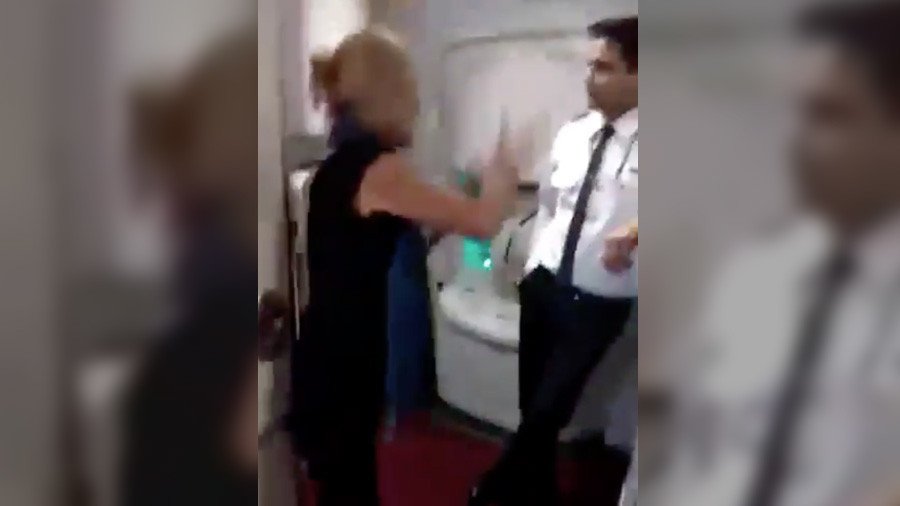 Airline crew on long haul flights have a tough job as it is, but abusive passengers can make an already stressful time much worse for all on board, as was the case in a bizarre, alcohol-fuelled rant caught on camera last week.
An as yet unidentified 50-year-old woman launched a disgraceful, entitled and vitriolic tirade against Air India cabin crew who refused to serve her more wine on a flight from Mumbai to London's Heathrow Airport Saturday. Mobile phone footage reportedly shot by a crew member of the shocking diatribe has gone viral online.
"You treat business class passengers like this? I work for all you f***ing people... But you won't give me a glass of wine," the woman shouts.
Bellowing at the admirably stoic staff, the passenger went on to claim to be an international human rights lawyer who has "f***ing helped Palestinian people."
The crew were advised not to serve the woman any more alcohol after complaining to the captain. This made an already uncomfortable situation far worse as the irate, barefoot passenger launched a bizarre rant against the crew and her fellow passengers, whom she inexplicably said "failed to stand up to injustice."
As the situation escalated, the woman reportedly spat at the pilot who attempted to calm her down.
READ MORE: 'Can we even call ourselves British anymore?' UK govt could ban airport morning drinking
The roughly 10-hour-long flight concluded with the woman's arrest upon arrival at Heathrow Airport. She is believed to be Irish, although seems to speak with a London accent.
"At approximately 1.30pm on Saturday, 10 November, a 50-year-old woman was arrested…on suspicion of racially aggravated public order, common assault and drunk and disorderly and taken to a west London police station," a police spokesperson told RT.com.
Think your friends would be interested? Share this story!
You can share this story on social media: