'Appalling and disturbing': Video emerges of revellers burning 'sick' Grenfell Tower effigy (VIDEO)
Published time: 5 Nov, 2018 17:41
Edited time: 6 Nov, 2018 10:07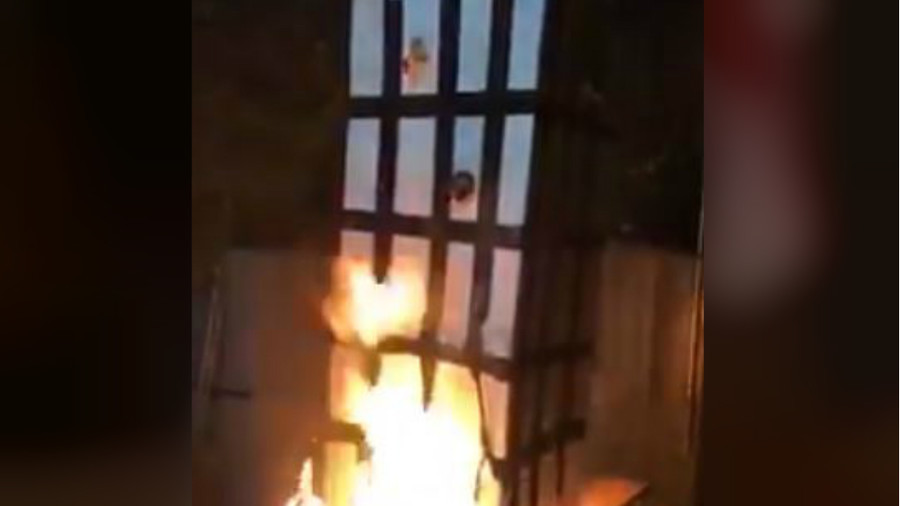 A bonfire party during which a Grenfell Tower effigy was burned while revellers joked about the victims has been branded sick and disgraceful. The video, believed to have been shot in the UK, has been reported to Police.
The distressing footage emerged on social media on Monday. In one Twitter post, uploader Kay Oldroyd tagged police saying she wanted the people in the video –whom she described as "beasts"– to be prosecuted.
Depicting a bonfire garden party, a group of unidentified individuals can be seen placing a homemade model of the North Kensington tower block above a fire. The building was destroyed by a rapidly-spreading fire in June 2017, killing more than 70 people, many of whom were trapped in the upper floors of the building. Some of these residents had called fire services only to be advised to stay in their homes until firefighters made their way to them and cleared a safe evacuation path.
As the cardboard model of the tower block begins to burn, the group of men and women can be heard laughing. One man appears to mockingly say, "stay in your flat" as he re-positions the effigy above burning hot coals. "Help me, help me," another man shrieks, apparently in jest, as the fire climbs the paper model.
I am sickened by this . It should be taken down & media should give it no oxygen . The victims of #Grenfell deserve respect for their dignity under the most traumatic of circumstances. Police have assured me that they will follow up . https://t.co/nrejKyKjws

— Nick Hurd (@NickHurdUK) November 5, 2018
A third man adds: "Didn't it start on the 10th floor? We should have put it upside down." A comment about a 'ninja' thought to be a racist reference to a victim can also be heard.
The bonfire footage has provoked outrage online and among politicians, with Home Secretary Sajid Javid describing it as "disgusting" behavior. Shadow Secretary Diane Abbott was equally swift in her condemnation of the video.
The survivors of the Grenfell tragedy have acted with unbelievable dignity and deserve the utmost respect.

— Sajid Javid (@sajidjavid) November 5, 2018
This is sickening and disgraceful behaviour. The victims of #Grenfell Tower fire suffered an unimaginable death, and the survivors watched their loved ones and homes perish. I am disgusted that people would behave in such a hateful way. https://t.co/8h59xVOUjI

— Diane Abbott (@HackneyAbbott) November 5, 2018
Speaking to LBC Radio, London Fire Commissioner Dany Cotton labelled the incident "appalling and disturbing".
The video also caused uproar on social media, with many people calling the bonfire "sick" and disrespectful to those who died in the fire.
Not going to share links to the #Grenfell bonfire video, because it's too horrible. But every day I still see the vertical crematorium in which my neighbours burned to death. (No, the 'wrap' doesn't veil its shadow.) Un-fucking-believable doesn't cover it.

— KateMaltby (@KateMaltby) November 5, 2018
This is unbelievably disturbing.

Whoever made this cardboard Grenfell Tower likely sat chatting whilst planning their creation, carefully cutting out individual shapes of people's heads to place in windows, who took time to make a stand to burn it on.

England in 2018. Chilling. https://t.co/tu2BJ5jsmM

— Dr Lauren Gavaghan (@DancingTheMind) November 5, 2018
I'm not sharing it but that video of peopleburning a Grenfell replica on a bonfire is utterly disgusting.

— Nikesh Shukla (@nikeshshukla) November 5, 2018
I'm not going to share it because I can't bear to look at it again, but disgusted someone thought it was a good idea to make a Grenfell bonfire night effigy. I feel physically sick.

— Elena Cresci (@elenacresci) November 5, 2018
How can so many people, at the same time, be ok with this at whatever party was being held? Nobody said 'hold on, this is a bit fucking sick...' Made my stomach churn watching that.

— Scott Inglis (@ScottInglisEFM) November 5, 2018
Like this story? Share it with a friend!