Alastair Campbell tells Piers Morgan to 'just shut up' as Brexit clash boils over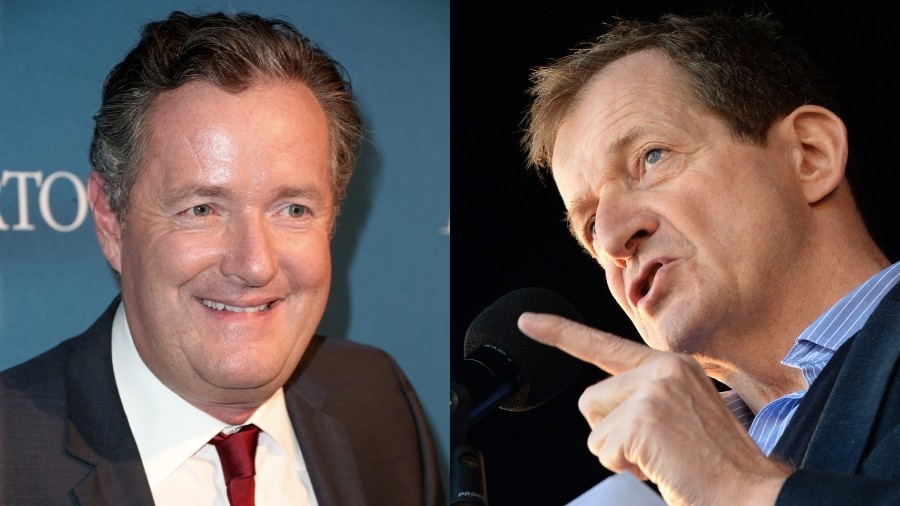 Tony Blair's ex-spin doctor Alastair Campbell told TV presenter Piers Morgan to "just shut up" as the pair everyone loves to hate attempted to out-shout each other on live TV, clashing over the polarizing subject of Brexit.
It was never going to be a sedate affair, but Campbell and Morgan didn't hold back in displaying their disdain for one another. Trading blows on the subject of Brexit, with Morgan insisting Brits knew what they were voting for on the 2016 EU referendum, Campbell, Blair's former spokesman, told his adversary to "just shut up".
Morgan appeared incensed at Campbell's ambition for a people's vote on the Brexit deal Theresa May's Tory government finalizes with the EU, telling him "you didn't listen to the people" over the Iraq War which "caused the deaths of a million people."
Susanna Reid, Morgan's co-host on breakfast TV show 'Good Morning Britain', tried in vain to stop the pair launching tirades at each other, but to no avail. The former New Labour heavyweight claimed Morgan needed to be challenged on the "nonsense he spouts."
The former winner of Donald Trump's 'Celebrity Apprentice' fired back at Campbell that he never gave the people that marched against the Iraq War a vote, and that if he had they would have voted against it.
READ MORE: 'Churchill was an imperialist racist': Piers Morgan clashes with professor live-on-air
It comes as crunch time fast approaches for Theresa May, with reports that the issue of the Irish border and the 'backstop' deal that would keep Northern Ireland in the customs union, albeit temporarily, is proving to be a sticking point for negotiations.
May will attend a critical EU summit on Wednesday that is being billed as 'make or break' time, not only in relation to striking a deal, but also concerning her leadership as PM.
Think your friends would be interested? Share this story!
Subscribe to RT newsletter to get stories the mainstream media won't tell you.
You can share this story on social media: