Twitter cheers as Roald Dahl's Matilda faces off against Trump (PHOTOS)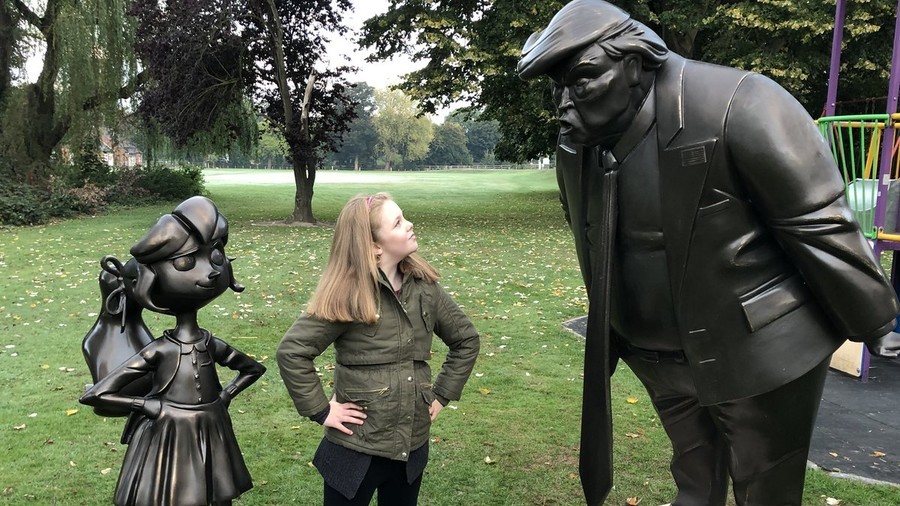 A statue of one of Roald Dahl's most-beloved characters, Matilda, has been erected at the author's home. The heroine now faces off against a new nemesis, Donald Trump, who "won" the readers' vote ahead of British PM Theresa May.
"Matilda demonstrates that it's possible for anyone, no matter how small and powerless they feel, to defeat the Trunchbulls in their own lives – a message that feels even more relevant today than it did 30 years ago," Bernie Hall, from The Roald Dahl Story Company said as cited by ITV.
The statues, which mark the 30th anniversary of his popular character, were temporarily erected outside the Roald Dahl Museum in Great Missenden Buckinghamshire, where the original novel was based, though the popular film adaptation was based in the US. Dahl's Matilda is famous for standing up to the domineering and bullying headmistress Miss Trunchbull in the 1988 book.
Trump was selected as the contemporary adversary for the now 30-year-old Matilda via a readers poll conducted by The Roald Dahl Story Company, winning 42 percent of the popular vote. British Prime Minister Theresa May came in second place (21 percent) followed by TV personality Piers Morgan (16 percent).
Respondents were also asked to vote on Matilda's contemporary profession as well as her current best friend. Top among her possible modern-day best friends were Emma Watson (24 percent), Duchess of Sussex Meghan Markle (14 percent) and popstar Ed Sheeran (9 percent) while the majority believed Matilda would be either a school teacher (24 percent), a UN ambassador (12 percent) or a librarian (11 percent).
The statue is not the first time Matilda has faced off against Trump in popular culture, with memes being shared widely during the contentious 2016 US presidential election.
Dahl, author of such children's classics as Charlie and the Chocolate Factory, The BFG, the Witches and Fantastic Mr. Fox passed away in 1990 at the age of 74.
"It's not surprising to hear that Donald Trump has been voted the figure she would be most likely to stand up to in 2018 — many clearly see in him some similar traits to the fictional headmistress Miss Trunchbull," lexicographer Susie Dent said as cited by ITV.
Like this story? Share it with a friend!