'I don't care if I incite fear of Muslims' – Tommy Robinson in heated interview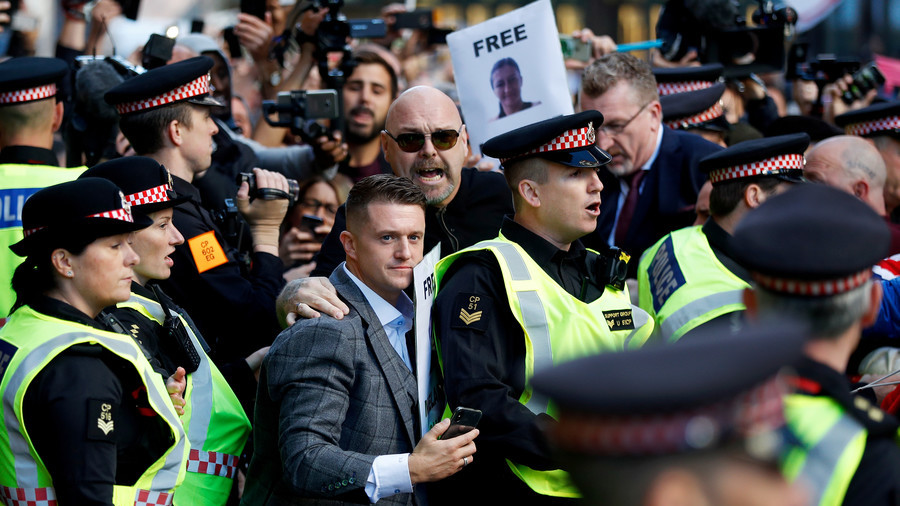 Tommy Robinson said he doesn't care if he "incites fear" against Muslims as long as he stops "children from getting raped," in a heated interview with Sky News.
Speaking to the broadcaster following a court's decision to adjourn the retrial of Robinson – real name: Stephen Christopher Yaxley-Lennon – on contempt of court charges, Robinson was questioned on why he doesn't campaign against white pedophiles. He said: "To be honest with you, I don't care if it incites fear [against Muslims] as long as it educates the children and prevents them from being raped."
Speaking to Sky News' Jason Farrell, Robinson stated: "If I believe I'm morally right then I'm not bothered about what your law says."
English Defence League (EDL) founder Robinson has largely turned away from street protests. Now a self-styled activist-journalist, he has been covering cases of so-called 'grooming gangs' – groups of Muslim males targeting and sexually abusing underage girls.
The far-right activist was convicted of contempt of court last year after he recorded suspects in a sexual grooming case in Canterbury.
The four defendants were convicted, but the judge slammed Robinson's actions: "It is about justice and ensuring that a trial can be carried out justly and fairly. It's about being innocent until proven guilty."
On his filming of defendants' faces, Robinson said that to be "forewarned is to be forearmed," adding: "All I wanted to do was get a video of their faces and I want every single child and parent who lives in that vicinity to know what those men were alleged to have done.
"The judge let down the British public. Those men should have been in a prison cell."
Robinson was later arrested after filming defendants outside a Leeds court, bringing separate contempt of court charges against him. The activist admitted in the interview to being ignorant of the law and subsequently receiving legal training.
He was released from prison in August after judges quashed a finding made at Leeds Crown Court earlier in the summer, granting him a conditional bail from a 13-month jail sentence. The interview was the first broadcasted since his release.
Ahead of the interview, Robinson sent recordings to his supporters outlining his expectations of the upcoming interview, suspecting they would drag up controversies from "ten years ago," including his joining of the British National Party.
Farrell put it to Robinson that he himself has a "radicalized" view of Islam in line with Islamic fundamentalists, a claim the activist denied, arguing that the radical interpretation of Islam is widespread among Muslims.
Jeezus, UK TV is an abomination....Tommy Robinson on SKY...Rod Liddle on BBC Question Time...are you planning on showing the secret home movies of Adolf Hitler next?....titled "Beneath it all, he was just a Man!"? #indyref2#bbcqt#BBCBias 9

— WeeHalfPint ✊✌💃 (@weehalfpintt) September 27, 2018
SKY News has given a platform to a convicted fraudster and racist who spends time inciting racial hatred in our country. It's disgraceful that SKY allowed Tommy Robinson to appear on national television. #bbcqt

— Nadeem Ahmed (@Muqadaam) September 27, 2018
In the edited video released on Sky News' website, Robinson denied he had been offered money from American nationalist and former Trump adviser Steve Bannon, who had called him the "backbone of Britain."
Robinson's response was cut short in the 8 minute Sky News, a fact that the activist later railed against. Following the interview Robinson railed against Sky News and Farrell.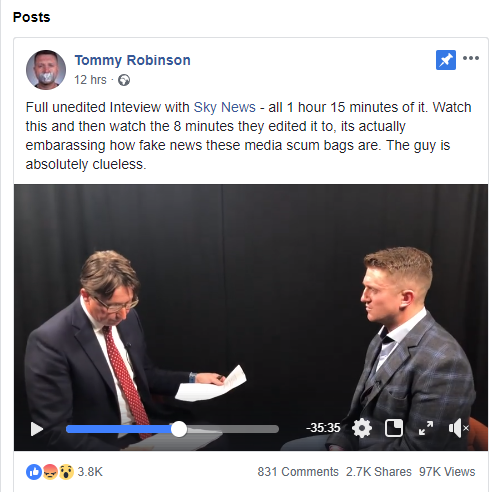 Signing off, Farrell defended the decision to interview Robinson, stating he already has a platform and "only in interviews like this is he challenged."
Wow. I've had such a polarised response to a piece of TV. Tommy Robinson seems to generate two opposing reactions - and nothing in between.

— Jason Farrell (@JasonFarrellSky) September 27, 2018
The reaction to the interview was varied, with many attacking Farrell and Sky News for giving Robinson and his views a platform, while others supported the broadcaster's decision.
Squealer is having a go at Sky News for interviewing Tommy Robinson. Not something he claims "the left" would do. He might want to have a word with his paymasters who ran this puff piece then... pic.twitter.com/5mevO8JbN2

— Harry Cole (@MrHarryCole) September 27, 2018
Despite those advocating the no-platforming, Robinson, his supporters, and the media road show that follows him show no signs of going away.
If you like this story, share it with a friend!
Subscribe to RT newsletter to get stories the mainstream media won't tell you.