'Real betrayal': Blair blasted by Farage in Brexit beef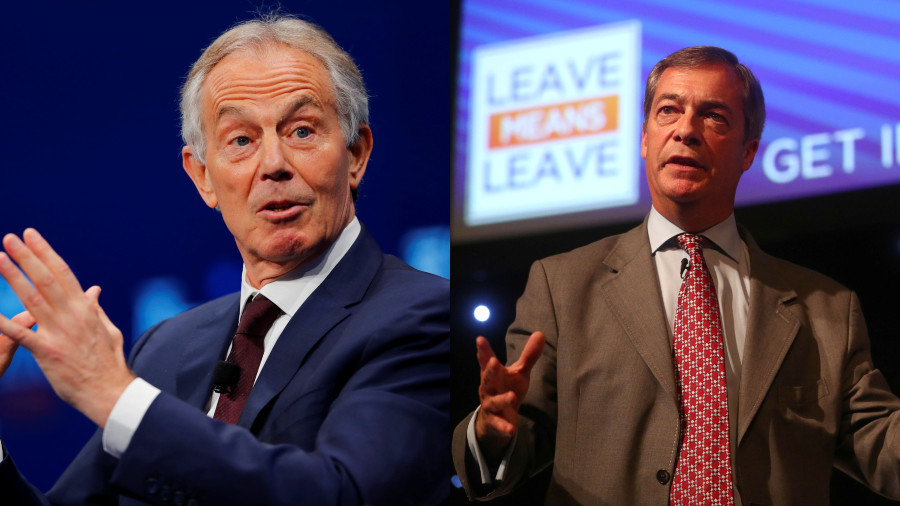 Ex-UKIP leader Nigel Farage has lashed out at Tony "the preacher" Blair for his latest intervention on Brexit, after the ex-PM claimed that the refusal to have a second referendum would a "betrayal."
Farage pounced after Blair penned an op-ed piece in the Evening Standard, in which he claimed that Labour Party members were "massively in favour" of another vote on Britain's withdrawal from the EU. He added that it would be a betrayal to deny the British citizens a "people's vote."
Farage ripped into the ex-New Labour leader, saying: "What an extraordinary use of the word betrayal, what an amazing twisting of the English language.
"Surely the real betrayal would be to ignore the wishes and the will of 17.4 million people in the greatest democratic exercise in the history of this country."
Blair, an ardent Remainer who has long called for a second EU referendum, was damning of the UK government's handling of Brexit negotiations.
"There have been two years of frankly fruitless negotiations. We are not agreed with Europe or among ourselves." The "problem with Brexit is Brexit because there is no resolution," added the former PM.
Since announcing his return to politics following Brexit, Blair has maintained a near constant presence in the British press, writing almost monthly attacks on his predecessor Jeremy Corbyn and Brexit negotiations.
Farage, a talisman for Brexit, was scathing in his assessment of Blair's latest comments, saying: "There you go folks, you idiotic, stupid, moronic 17.4 million people who think we can be a free country.
"It can't be done according to Tony, there is no resolution."
UK Prime Minister Theresa May, speaking from Salzburg on Wednesday, ridiculed calls for a second EU referendum, ruling out the idea.
May said: "I know that for many of you Brexit is not something you want, but it's important to be clear there will be no second referendum in the UK.
"The public has delivered its verdict and I as Prime Minister will deliver upon that - the UK will leave on the 29th of March next year.
"I believe I have put forward serious and workable proposals. We will of course not agree on every detail but hopefully, you will respond in kind."
Like this story? Share it with a friend!