Meet Mantis: BB8 creator's six legged bot waltzes into record books (VIDEOS)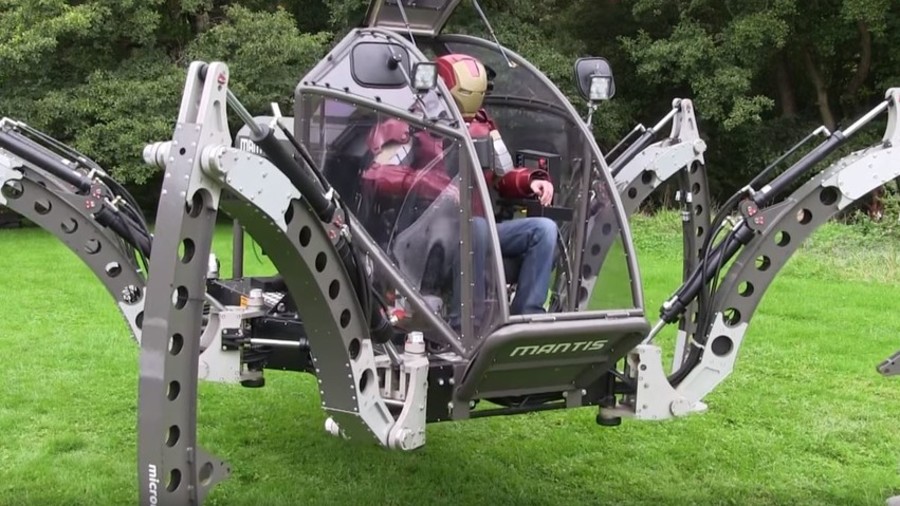 If you've ever wanted to get behind the wheel of a Star Wars-type robot, now is your chance thanks to one British engineer. Meet Mantis: the two-ton robot that has waltzed right out of sci-fi films and into the record books.
Hampshire's Matt Denton has built the largest rideable hexapod robot, earning its place in the Guinness World Records. The iron giant measures 2.8m x 5m (9ft 2in x 16ft 4in), and tips the scales at almost two tons.
Inspired by the four-legged AT-AT walker robots in Star Wars Episode V: The Empire Strikes Back, Mantis is powered by a turbo diesel engine - allowing the gentle giant to walk at blistering speeds of just over 1 km/hr (0.6 mph). Although it may not be fast, Mantis is smart - boasting a Linux-based PC as its 'brain' and using special software to control each leg.
Even though the record-smashing might be amped up with brain power, the pilot has maximum control: 18 degrees of freedom by way of two three-axis joysticks and a whopping 28 buttons.
Mantis is not Denton's first attempt at building a hexapod robot. Prior to the current world-record-holding robot, Denton built more than 20 smaller hexapod bots, with most being less than 1 foot (30 cm) in diameter.
So what's next for Denton? As it turns out, Mantis is merely a "road test" to a more ambitious, much larger project: a 200-ton hexapod to be used underwater.
Denton took three years to build Mantis and try to work the kinks out of previous attempts at a hexapod robot. Denton's previous effort, the MK I model, took a year-and-a-half to make, and suffered from crippling issues with the hydraulic systems.
"I had very little experience with hydraulics, but had to figure out how the engine, hydraulic pump and tank would work together," he said, adding that he "had to become an expert in multiple areas" which meant "a lot of evenings reading."
Denton's work on the hexapod bots brought him full circle - from being inspired by Star Wars as a child, he was chosen to work on 'Star Wars: Episode VII - The Force Awakens' - later winning an award for his work on the fan-favorite BB8 robot.
"My younger self, there is no way that they could believe it, that I would end up working on a film and building a giant walking machine," he said, before adding that it feels "amazing to be in the Guinness World Records book."
Think your friends would be interested? Share this story!