Palestinian groups urge Labour to 'reject IHRA's false, anti-Palestinian definition of antisemitism'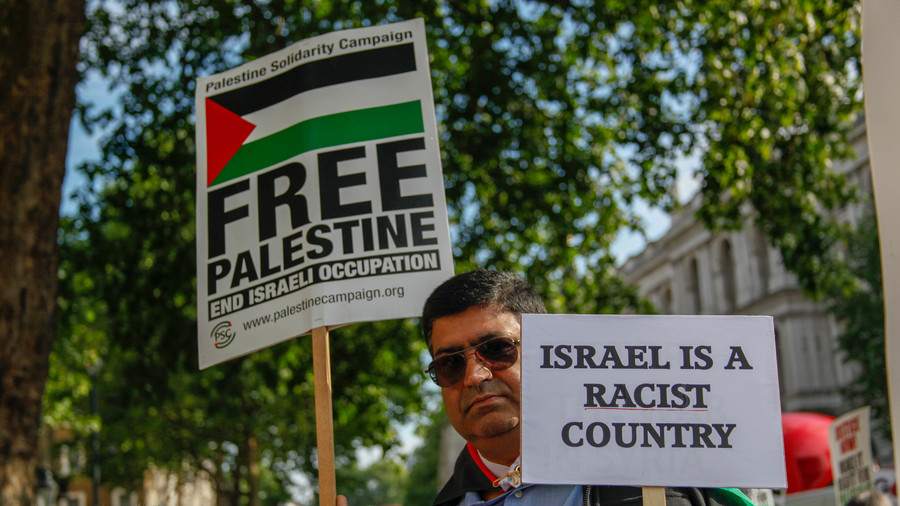 Palestinian civil society groups have issued a statement urging UK Labour and trade unions to reject the "biased, anti-Palestinian" IHRA definition of anti-Semitism which seeks to conflate anti-Semitism with criticism of Israel.
Palestinian civil groups have urged the UK Labour Party to reject the "biased, anti-Palestinian" definition of anti-Semitism from the International Holocaust Remembrance Alliance (IHRA).
In a letter, the groups claim the definition "aims to silence criticism of Israeli policies that clearly violate Palestinian human rights."
The statement, signed by 24 Palestinian civil society groups including their trade unions, refugee networks and professional associations, is circulating on social media with the hashtag #DontSilencePalestine.
READ MORE: Jewish group defends Corbyn's criticism of Israel, slams anti-Semitism claims (VIDEO)
It reads: "Palestinian trade unions, mass organisations and networks, representing the majority in Palestinian civil society, call on the British Labour party, trade unions, city councils, universities and civil society at large to reject the IHRA's false, anti-Palestinian definition of antisemitism."
The "discredited" IHRA guidelines "deliberately conflate hostility to or prejudice or discrimination against Jews on the one hand with legitimate criticism of Israel's policies and system of injustice on the other," the statement continues.
It comes after reports that Jeremy Corbyn's Labour party is set to adopt the IHRA definition on anti-Semitism in full, after consistent pressure from mainstream Jewish groups and a selection of 'Labour Friends of Israel' MPs. In July, Labour MPs and peers unanimously passed a motion that would make the party's parliamentarians adhere to the IHRA definition.
Labour's ruling NEC will adopt IHRA antisemitism definition in full, with all examples, on 4 September, according to three NEC members. But will that restore relations with the mainstream Jewish community? https://t.co/TqGBXT51Y9

— Robert Peston (@Peston) August 28, 2018
The contention stems from the IHRA's accompanying examples of anti-Semitism - eleven in total. There are those within the party that say all eleven must be adopted if Labour is serious about stamping out anti-Semitism, while another faction claim certain examples limit free speech about Israeli state policies in regards to Palestinians.
The Palestinian groups' statement affirms that the IHRA definition "attempts to erase Palestinian history, demonise solidarity with the Palestinian struggle for freedom, justice and equality, suppress freedom of expression, and shield Israel's far-right regime of occupation, settler-colonialism and apartheid from effective measures of accountability in accordance to international law".
The Palestinian statement urges Labour and UK trade unions to:
Consistently uphold the UK Human Rights Act, the UN Declaration on Human Rights Defenders and the right to freedom of expression.
Unequivocally uphold the UN-stipulated rights of the people of Palestine.
Officially endorse a military embargo on Israel.
Unambiguously condemn all forms of racism and bigotry, including Israel's more than 60 racist laws.
Ben Jamal, director of Palestine Solidarity Campaign (PSC), said: "This is a hugely significant intervention from a broad coalition of Palestinian civil society organisations whose ongoing struggle for freedom, justice and equality is directly hindered by the IHRA.
"We share these concerns about how the IHRA is being used to suppress discussion of the realities of Palestinian dispossession and the ongoing denial of their rights as well as a tool to quash the Boycott, Divestment and Sanctions movement. Labour and the trade union movement must heed Palestinian voices."
The IHRA definition is adhered to by 31 nations, the majority of which are European.
Kenneth S. Stern, the man who drafted the IHRA definition has condemned its use to curb freedom of speech on Israel - insisting it was always a "working definition" and had never been intended to be a legal framework on anti-Semitism.
Like this story? Share it with a friend!
You can share this story on social media: