US 'protectorate' rebelling? Experts doubt EU's ability to stand up to Washington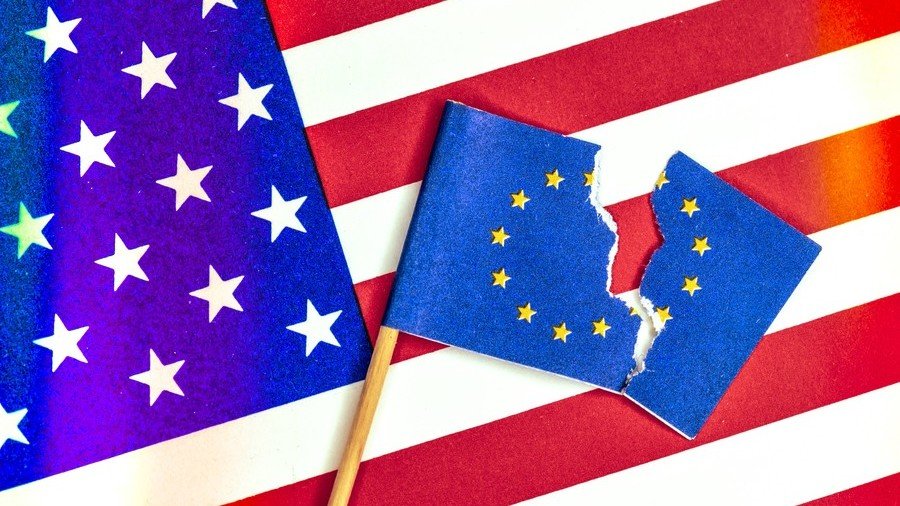 France and Germany are gearing up – with words, so far – to take a stand against the US and Donald Trump's "isolationism." While the EU powers talk about defending themselves without the US, it's unclear if they are able to do so.
On Monday, French President Emmanuel Macron harshly criticized what he called Trump's "aggressive isolationism," urging the EU to exert itself as "a trade and economic power" able to maintain economic and financial independence, and to fend off Washington's sanctions. The discontent with the US policies in the EU skyrocketed recently, after the US president hit the bloc with tariffs on steel and aluminum imports as part of a trade war.
"Multilateralism is going through a major crisis which collides with all our diplomatic activity, above all because of US policy," Macron said.
The French president's remarks echoed statements by the German Foreign Minister Heiko Maas, who said Berlin needs to create "a new and balanced partnership with the US" amid its "growing protectionism." Maas also insisted that the EU should become more active in areas where Washington "pulls back."
Even though many EU politicians have expressed the desire to conduct independent foreign and defense policy, they are not really capable of doing it, believes Fyodor Lukyanov, editor-in-chief of Russia in Global Affairs magazine.
"The shining example is the fate of the Iranian nuclear deal. Politically, Europe is outraged deeply by the US actions and firmly expresses its commitment to the agreement. In fact, it's nearly all over, since European business is leaving Iran… So all other talk doesn't make much difference." Lukyanov told RT.
As for the 'balanced partnership' the EU officials have been talking about, Lukyanov is doubtful it will actually be fair.
"Europeans will make considerable concessions, but will say that they've reached a new quality of relationship. And I think the US will gladly play along," he added.
Europe's lack of ability to counter Washington's actions comes from the fact that it has been subordinated to the US for too long and cannot conceive of it as an adversary, historian and international affairs specialist John Laughland explained. Western Europe was "an American protectorate" after World War II and "it remains so" even now, many years after the end of the Cold War.
"The European Union relies on the United States militarily and politically for so many things. It's very difficult psychologically for the Europeans to regard the Americans as some kind of enemy," Laughland said.
'European army' not happening while NATO & EU still stand?
This dependence from US may be something that EU is trying to break away from. The relations between the two got really tense over the money issues in military spending. During the latest NATO summit in July the US president urged the bloc's nations to spend 4 percent of their GDP on defense, while many of them are still dragging behind the officially proclaimed 2 percent goal.
"Europe can no longer rely entirely on the United States for its security," Macron said. "It is up to us today to take responsibility and guarantee [the EU's] security and, therefore, EU sovereignty."
The decades-old idea of the EU taking its defense into its own hands and creating a sort of joint military structure has resurfaced recently amid the bumpy relations between the US and its NATO partners. The revival of the "European army" idea is actually the EU attempt to strike back at Trump's military spending demands, yet not a very successful one, Lukyanov believes.
"This is empty talk in my opinion. It is dragging from the 1950s and has never resulted in anything. A European army or any other serious European defense organization definitely contradicts NATO," Lukyanov said. "It's unclear how they can co-exist and why both of them are needed. The Europeans can't even come to common grounds on what they deem to be a threat without US patronage."
Laughland shares the opinion that any joint European army is impossible while NATO – and the EU itself, in fact – exist, since they are seamlessly blended into one another.
"I don't understand how Emmanuel Macron can imply that the European security can somehow become different from NATO, because in the European Union's own treaties, the two organizations are organically linked," Laughland told RT. "So, I think that these are statements which don't correspond with any kind of reality."
Emergence of a European military of any sort is especially unlikely in the post-Brexit world, since such an institution is impossible without the UK, a major military power in Europe, Laughland added.
Even with the UK on board, all the European nations combined still drag far behind in military capabilities compared to the US alone. The military spending of top five European countries in 2018 – the UK, Germany, France, Italy and Spain – amounts to $184.5 billion, compared to $647 billion the Pentagon has at its disposal.
Subscribe to RT newsletter to get stories the mainstream media won't tell you.
You can share this story on social media: