Berlin should 'recalibrate' partnership with US in 'sober and critical' way – German FM
Published time: 27 Aug, 2018 09:18
Edited time: 28 Aug, 2018 10:33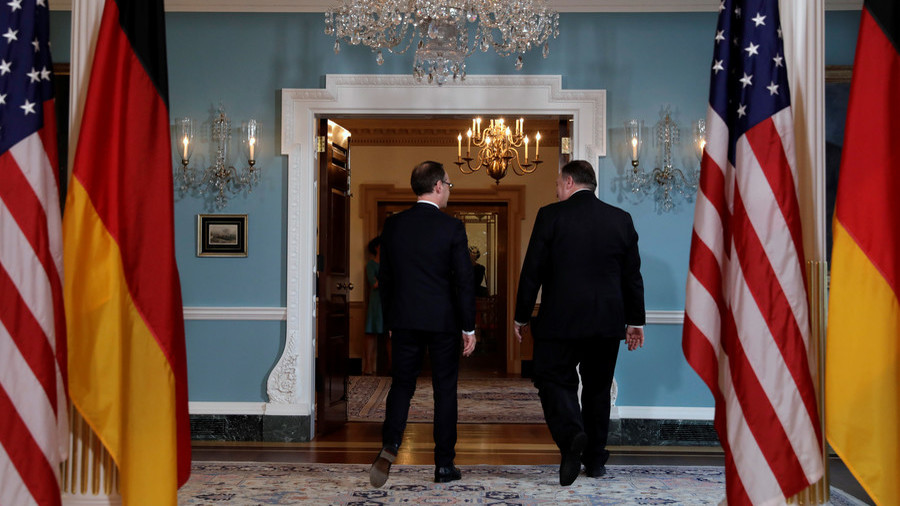 Germany must "recalibrate the transatlantic partnership" with Washington, the foreign minister says. This comes as the two nations are locked in a trade war and numerous disagreements, from military spending to energy.
"The US is more than the White House," German Foreign Minister Heiko Maas tweeted on Sunday in response to US President Donald Trump, who has unleashed a trade war on the EU and had repeatedly blasted the German government over various policy issues.
Maas added that he hopes the upcoming 'German Year in the US' promotional campaign will help to "recalibrate the transatlantic partnership in a sober, critical and self-critical way."
The 'German Year in the US' campaign (Deutschlandjahr USA) was designed by the government to showcase the friendship between the two states and to present a favorable image of Germany to the American public.
Speaking on Friday, Maas said that Berlin needs "a new and balanced partnership with the US." The German minister cited "a growing protectionism" by its major transatlantic partner as a key reason for this requirement.
Berlin needs "to adjust" its policies given the new reality, Maas noted. However, he stopped short of saying it works against Washington, claiming the move would serve the best interests of both nations and insisting that the EU should become more active in areas where Washington "pulls back."
Trump often singled out Germany when criticizing the EU on a wide range of policies. He lambasted Berlin for maintaining a large trade surplus with the US and for its level of military spending – something the president openly branded as "not fair.""Germany pays 1 percent (slowly) of GDP towards NATO, while we pay 4 percent of a MUCH larger GDP. Does anybody believe that makes sense?" Trump tweeted in June.
The US president also pulled no punches in deriding Germany for its policy on migration as well as energy. During a NATO summit in July, Trump blasted Berlin for its dependence on gas shipments from Russia, going as far as labeling Germany as a "captive" of Moscow.
Trump's accusations were immediately rebuffed by German officials, who, in turn, began relaying their growing frustration with Washington. "We can't rely on the superpower of the United States," German Chancellor Angela Merkel told reporters last month, speaking out against the nation's dependence on other states.
Like this story? Share it with a friend!