What did Angela see? Russians ridicule Merkel for spying on 'Putin's base' with large binoculars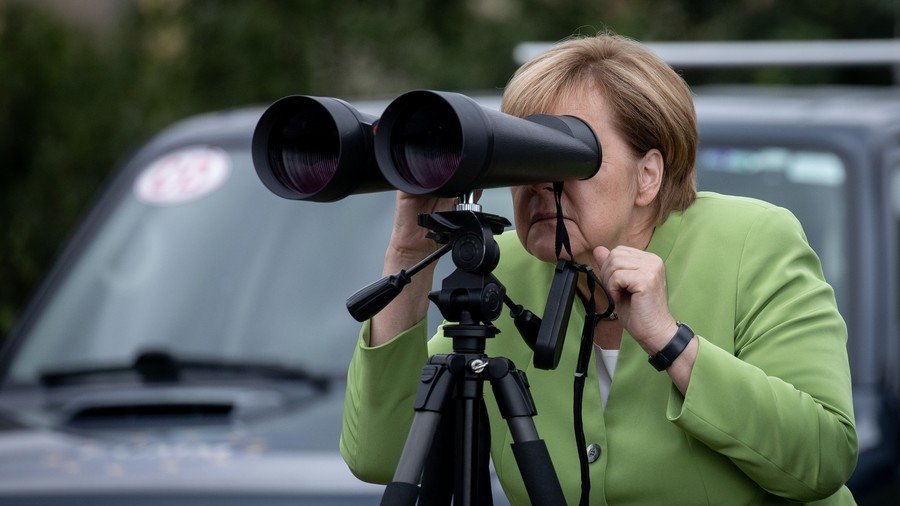 The Russian internet was amused by German Chancellor Angela Merkel's stop for a glance at a Russian military base through a pair of large binoculars during her visit to Georgia. Some said she should quit being shy and come visit.
Footage of Merkel, attentively gazing with binoculars, was captured on Friday during the chancellor's visit to Georgia. In a small village of Odzisi, 50 kilometers away from the nation's capital Tbilisi, Georgian officials had offered Merkel a peek at the Russian military base across the border in the breakaway republic of South Ossetia, whose independence was recognized by Moscow in 2008.
Social media users found the image of Merkel spying on Russian troops amusing, and began guessing what she might have spotted through the large lenses. "This is what the Frau Chancellor saw," one person wrote, posting a viral picture of Russian President Vladimir Putin shirtless on a horseback. "Angela, quit peeking, just come over."
"She could've just asked to come over," another user agreed.
The commentators were joking that the German leader can't stop gazing across the border because the Russian troops might be lined up in their birthday suits or bathing outside.
Some users had a hunch that Merkel could be actually spying and plotting something. "Tremble, Russia," one of them warned, while others speculated that the chancellor was indeed hoping to catch a glimpse of Putin himself. Questions were also raised as to what would happen if Putin were to take her binoculars to peek at NATO troops from Russia's westernmost Kaliningrad region.
A user named ta va kom found Merkel's interest touching and endearing. "There were times when people had telescopes for gazing on the Moon, the Sun and the stars. Now the Russia Army is like space: it's being gazed on, being observed," she wrote.
There was room for harsh criticism as well, though, with one person asking, "Where was Merkel with her binoculars when Georgia was shelling Tskhinval?" The commentator was referring the 2008 South Ossetia War which erupted after Georgian troops launched a full-scale assault on the South Ossetian capital, also targeting Russian peacekeepers stationed there.
Think your friends would be interested? Share this story!
You can share this story on social media: