Yemen school-bus airstrike: Theresa May's husband's company has shares in firm that made bomb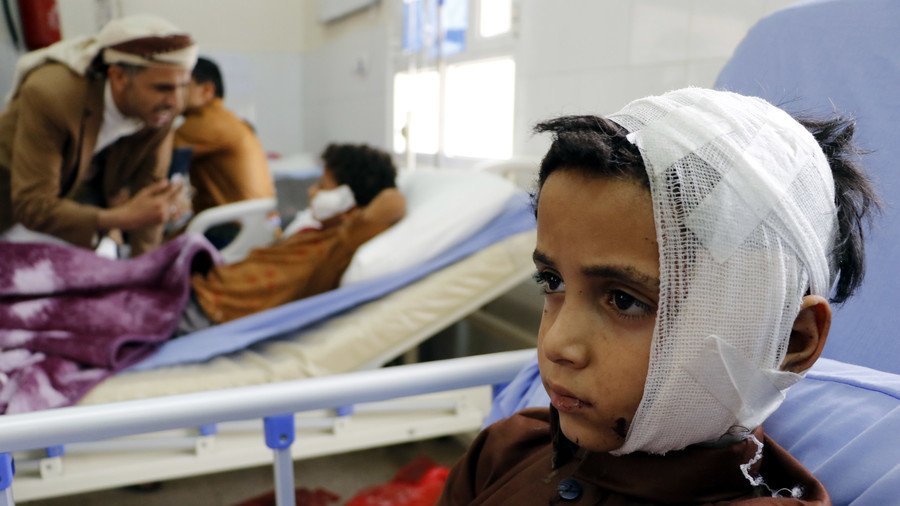 Capital Group, the company that employs Theresa May's husband, owns a large number of shares in the company that produced a bomb which killed 40 Yemeni children in a Saudi Arabian attack on a school bus.
A Saudi military jet fired a laser-guided missile at a stationary school bus on August 9. A total of 51 people were killed, including 40 children aged between six and 11. Some 79 others were injured, including 56 children.
The children were returning from a school trip to celebrate their graduation from summer school. Videos, filmed by the children, emerged after the attack and showed them playing with each other minutes before they were killed.
Bellingcat, an investigative journalism site, carried out analysis of bomb fragments that were gathered after the attack. It concluded that the laser-guided munition was a version of a Mk-82 bomb; a GBU-12 Paveway II manufactured by American defense contractor Lockheed Martin. The munition was sold to Saudi Arabia by the US in 2015.
Capital Group, which employs Philip May as a relationship manager, holds a 7.09-percent stake in Lockheed Martin. The shareholding was worth around $6.5 billion in March this year. The defense manufacturer, which also produces the F-35 fighter jet, has seen the value of its shares rise in August, despite the emergence of its links to the attack.
Saudi Arabia says it never deliberately targets civilians and that the bombing of the school bus was a "legitimate military operation," which was taken as a retaliatory response to a Houthi ballistic-missile attack.
The UN Security Council has demanded an investigation into the attack, which has also been condemned in the UK by Labour leader Jeremy Corbyn.
Speaking at the US Institute of Peace in Washington DC on Tuesday, newly appointed Foreign Secretary Jeremy Hunt said that Britain was 'concerned' about the situation, adding: "Saudi Arabia is a close military ally and they help keep the streets of Britain safe."
On the issue of arms sales, Hunt said that the UK has "one of the strictest systems in the world" when it comes to the "mechanics of arms sales." According to Hunt, arms-sales agreements are kept "under constant review" so that the UK can make sure munitions are being "used in a way that is consistent with the agreements made when they were sold." There has been no announcement of any action from the UK government since the killing of the Yemeni children.
The most recent report by the UN High Commission for Human Rights stated that there have been 17,062 civilian casualties since 2015 in Yemen, comprised of 6,592 deaths and 10,470 injuries.
If you like this story, share it with a friend!
You can share this story on social media: