Israeli and British flags burnt during Republican bonfire in Derry (VIDEO)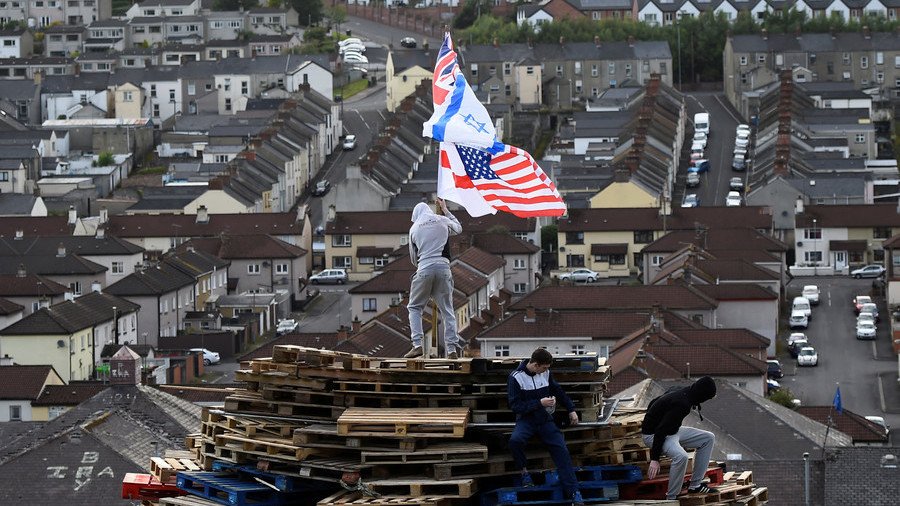 British and Israeli flags were burned in a huge annual Republican bonfire in Derry, that saw signs with names of murdered police officers and poppy wreaths also incinerated.
Police Service of Northern Ireland (PSNI) has described the bonfire, held on Wednesday, as a hate crime, while the son of one of murdered police officers has expressed his anger at the event.
Later on Wednesday, three petrol bombs were reported to have been thrown at the city's centuries old walls. While one man was arrested on suspicion of making, possessing and throwing a petrol bomb. He remains in custody.
The name of murdered prison officer David Black was one of those placed on top of the bonfire. Black's son, Kyle, tweeted: "My dad, along with the other brave men named, served their community with dignity and respect."
"This in complete contrast to those responsible for this."
In turn, PSNI Chief Inspector Paul McCracken, stated: "We take hate crime very seriously and actively investigate all incidents reported to us.
"Hate crime is wrong on all levels and the PSNI will do everything it can to ensure that everyone, from whatever background, can live free from prejudice, fear and discrimination."
The bonfire was held in the staunchly republican area the Bogside, where in 1972 British Soldiers opened fire on a protest killing 14 people, in an event that come to known as Bloody Sunday.
The protesters had been marching against the British government's policy of internment introduced in 1971, which saw republican suspects indefinitely detained without trial.
Bonfires are held on 15 August partly to commemorate the policy of internment which lasted until 1975 and saw 1,900 people interned.
Alongside the Bogside's murals to the victims of Bloody Sunday, are murals adorned with the Palestinian flag. There is a long history of solidarity between the Northern Irish republicans and Palestinians, as both sets of activists see parallels in each other's endeavor for nationhood. This solidarity often sees republicans burning the Israeli flag alongside the Union Jack.
Think your friends would be interested? Share this story!
You can share this story on social media: