'They may be jihadists but they're our jihadists': White Helmets' UK resettlement policy attacked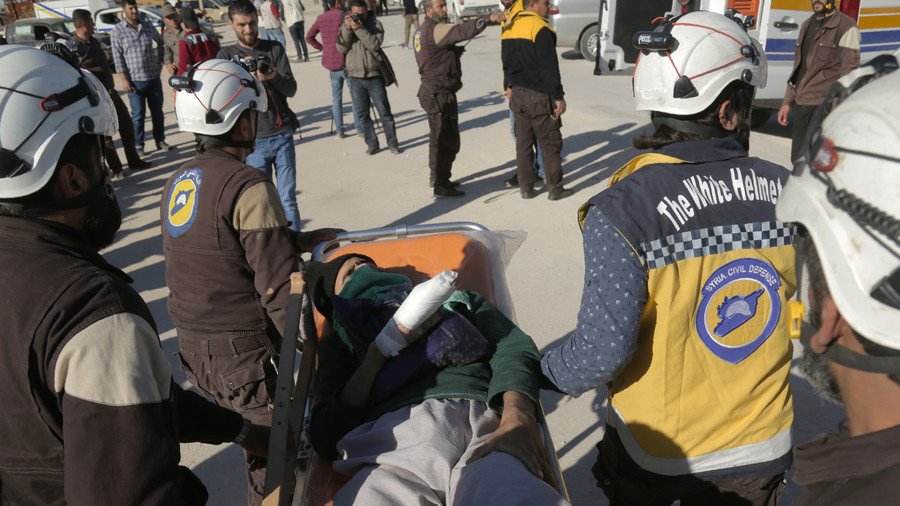 The UK is to offer asylum to members of western-backed White Helmets group, that operates in Jihadists-held areas in Syria. The move has prompted dire warnings about who exactly Britain might be admitting.
Some 98 White Helmets members were rescued by the Israel Defense Forces on Saturday night, as part of an evacuation mission that saw a total of 422 people collected from Syria and transferred across Northern Israel and into Jordan at three points, the Guardian reports.
The paper claims that the UK is prepared to offer asylum to up to 500 White Helmets members or relatives of the group, officially known as the Syria Civil Defence. The proposed resettlement of members of the group has divided opinion.
READ MORE: Israel evacuates White Helmets from Syria to Jordan
Critics of the move have raised doubts around the White Helmets' legitimacy as a human rights organisation, accusing them of containing within their ranks jihadists who are now set to be welcomed to Britain.
There are those such as UK Foreign Secretary Jeremy Hunt who has heaped praise on the organization – which is funded heavily by the UK government – claiming Saturday night's evacuation carried out by Israel was "fantastic news" as the White Helmets were the "bravest of the brave."
Former UK ambassador to Uzbekistan-turned blogger Craig Murray has not been so glowing about the prospect of White Helmets members being granted resettlement in Britain.
He told his social media followers: "They may be jihadists but they are our jihadists." Fascinating that the 'White Helmets' are being brought straight to the UK with families when the Afghan and Iraqi military interpreters were not. The British government does not do this from humanity or obligation."
Murray is not alone in voicing such brutal skepticism. Dr Marcus Papadopoulos, London-based editor of Politics First, a self-described non-partisan, bi-monthly magazine, has remarked that resettling these volunteers would be like allowing "murderers" to "freely walk the streets" of the UK.
Papadopoulos tweeted: "Resettling members of the 'White Helmets' in the UK is akin to allowing murderers and other hardened criminals to freely walk the streets of British towns and cities."
Others on social media poked fun at the elevated status the volunteer group were being given and asking "what could possibly go wrong?"
The Pulitzer Prize-winning journalist, Seymour Hersh recently told RT's 'Going Underground,' that although some members of the Western-supported White Helmets may be in the business of saving lives, the group is also a "propaganda organization."
"Too many times we've seen the same child in photographs, year after year, always covered in dust," Hersh said, adding that the White Helmets "do engage in anti-Assad [activities]." He insisted that such a tactic is "very easy" because Assad is "hated" by so many.
Hunt and International Development Secretary Penny Mordaunt, issued a joint statement on Sunday outlining the proposed resettlement of the White Helmets and their relatives.
Israel had originally calculated numbers evacuated at 800, but that figure was revised downwards by former MI5 officer James Le Mesurier, recognized as the founder of the White Helmets which he formed in Turkey in 2013. The Guardian reports that as many as 800 others failed to escape or chose not to be evacuated.
READ MORE: Another 'fake chemical attack' would trigger major crisis in Syria, UK ex-envoy to Damascus tells RT
The White Helmets have on several occasions been the first to provide footage from the sites of alleged chemical attacks and the purported aftermath in Syria, including the Khan Shaykhun and Douma incidents.
The self-styled volunteer first-responders operate in militant-held areas of Syria, and its members have repeatedly been photographed and filmed fraternizing with jihadists, including those linked to Al-Qaeda.
Major General Igor Kirillov, chief of Russia's Radiological, Chemical and Biological Defense Troops, has claimed that the "imitation" of a chemical attack in Khan Shaykhun in 2017 was staged by the controversial group.
Witnesses of the alleged chemical attack in Douma, including 11-year-old Hassan Diab and hospital staff, told reporters at The Hague in April that the White Helmets video that was used as a pretext for a US-led strike on Syria was, in fact, staged.
Like this story? Share it with a friend!
You can share this story on social media: