Poster encouraging parents to shoot rabid children gets feature in UK govt. magazine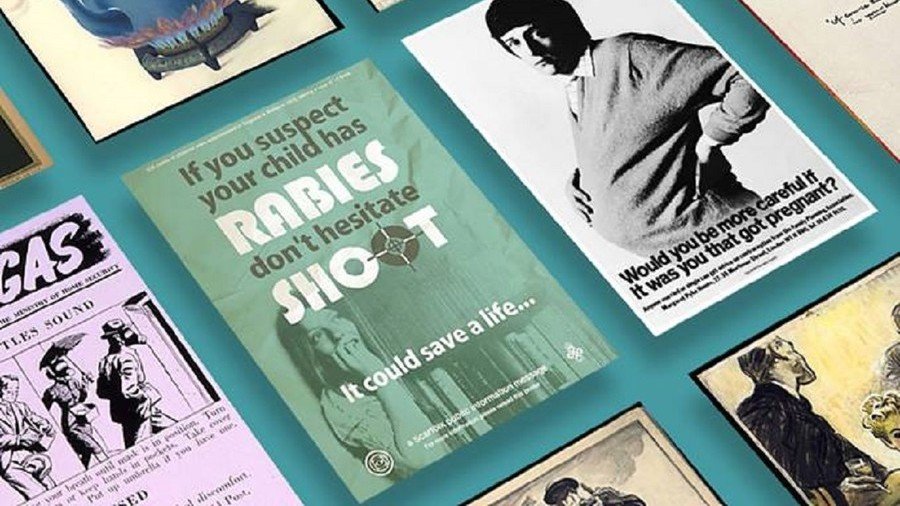 The readers of Civil Service Quarterly were likely puzzled when they saw an article illustrated by a hoax poster advising parents to kill children who contract rabies. The poster creators meanwhile reported a copyright breach.
The latest edition of the Civil Service Quarterly, published by the UK government, has some unsettling illustrations in it. One of the many posters, accompanying an article telling about "A Century of Government Communications" has "If you suspect your child has rabies, don't hesitate. Shoot" plastered all over it.
The poster depicts a gun and a visibly scared child at the background. However, neither its written message, nor the troubling imagery apparently prompted the designers of the magazine to reconsider their choice before the issue came out and was sent to government offices across the country.
Wow. This has made my week. This is from the government's *own* publication about the history of government communications. They mistakenly included a Scarfolk poster which encourages the killing of children. Clearly, nobody thought it was too extreme. (via @CraigHeap) pic.twitter.com/PITafePTKe

— Scarfolk Council (@Scarfolk) July 20, 2018
Those who first spotted the mistake must have been familiar with the phenomenon of Scarfolk Council. In small print on the poster's bottom one can read "a Scarfolk public information message" which is followed by a tag-line: "for more information please reread this poster."
Scarfolk is a fictional northern English dystopian town, that is forever stuck in the 1970s.
"Here in Scarfolk, pagan rituals blend seamlessly with science; hauntology is a compulsory subject at school, and everyone must be in bed by 8pm because they are perpetually running a slight fever," or as town's creator, writer and designer Richard Litter, touts it.
After getting in the news, Litter, who also "serves" as the town's mayor issued a mock copyright cease and desist notice, scolding the UK government for appropriating its policies without being given any permission.
"Permission was neither asked nor granted to reproduce our policy and your publication therefore constitutes an infringement of our rights," the notice reads, demanding the UK government "immediately removes all infringing content regards exterminating children (for political, entertainment or culinary reasons.)"
The government, meanwhile, has given in to the Scarfolk's request and the poster can no longer be seen in the Quarterly's online version, where it has been replaced by an army poster, calling on Britons to "join your country's army" in name of the King.
The government-run publication has admitted their mistake, but provided no explanation for the blunder.
Litter has told Sky News he has "no idea" how the poster ended up in the magazine but hopes it was an inside job by a Scarfolk devotee.
"I'd like to think a Scarfolk fan and/or cult member infiltrated the civil service – as my book predicts!" he said.
Subscribe to RT newsletter to get stories the mainstream media won't tell you.
You can share this story on social media: