Heckled from the rough: Social media reacts to Trump waving to protesters during game of golf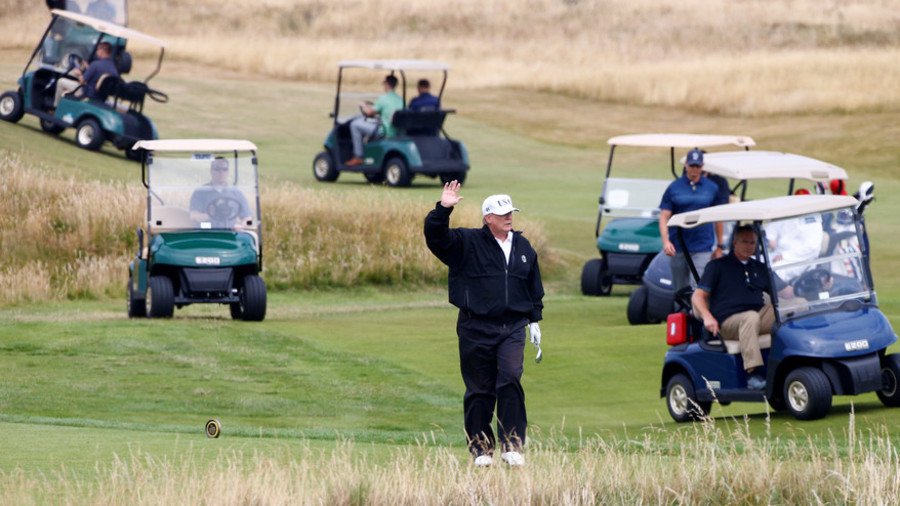 After grueling days of berating NATO allies over defense funding and being met with protests against his UK visit, Donald Trump took to his Scottish bolthole for a round of golf before his summit with Vladimir Putin in Finland.
The president's plans for a hassle free weekend ahead of the Helsinki showdown on Monday soon fell through shortly on arrival to his Turnberry golf resort, when an activist from Greenpeace paraglided overhead with a sign bearing the slogan: "Trump: Well Below Par."
Out on the links on Saturday, hopes of a quiet 18 were dashed as he was greeted with shouts of "No Trump, no KKK, no racist USA," from protesters waiting in the rough to let their voices be heard.
Footage of the haranguing shows Trump flanked by security and more golf buggies than you've ever seen on a course at one time, where the president waved to the protestors before sticking his head down to take his shot.
The protesters continued their chants during the president's swing, jeering as he waved one final time before making a speedy getaway down the course in his buggy.
Since footage of the protest and wave surfaced, social media has been in full swing with many praising the Scots for letting their displeasure with Trump be known. While other questioned who his golfing partners were.
Some wanted to express sympathy with Trump's attempt at a easy game, while others took swipes at the Scots' penance for fine whisky.
Like this story? Share it with a friend!
You can share this story on social media: