Explosives thrown at home of SF's Gerry Adams, while Derry rioting blamed on 'New' IRA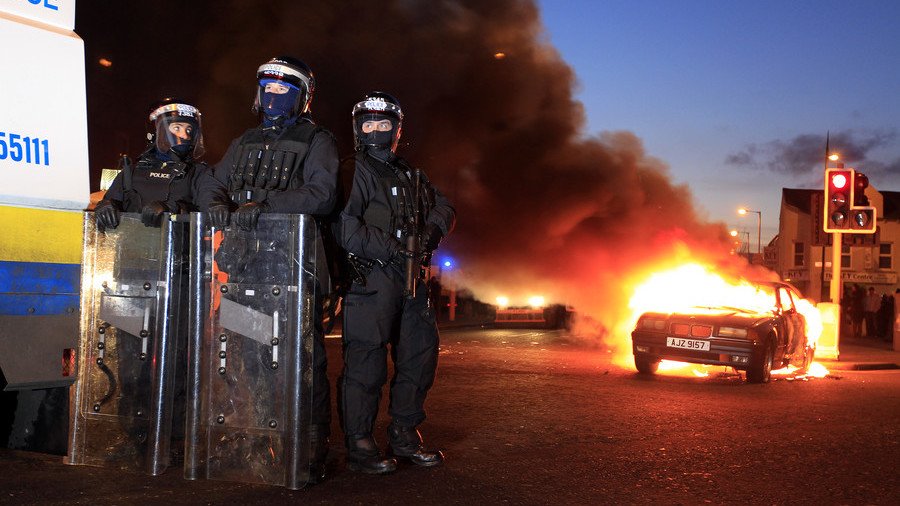 A week of rioting and violence across Northern Ireland culminated in explosive devices being thrown at the Belfast homes of prominent Sinn Fein activists, including the party's former leader Gerry Adams.
The home of the republican Bobby Storey, who previously served as the party's chairman in Northern Ireland, was also targeted.
The Police Service of Northern Ireland (PSNI) confirmed on Friday night that they were dealing with "two incidents at two separate addresses in West Belfast."
A further search of both locations saw remnants of "industrial, firework-type devices" seized by police, and "a parked car was damaged at one of the houses", according to a PSNI statement.
Sinn Fein's Policing and Justice Spokesman Gerry Kelly condemned the "reprehensible and cowardly attacks."
"Grandchildren were in the driveway of Adams' home minutes before the attack," he said.
Appealing for calm, Kelly described the attacks as "the desperate acts of increasingly desperate and irrelevant groups."
Adams, a prolific social-media user who led Sinn Fein from 1983 until his retirement last February, tweeted in the early hours of Saturday morning that no one had been hurt during the attack, thanking neighbors and Sinn Fein members for their quick response.
All well here. No one hurt. Thanks 4 all the texts & phone calls. Thanks 2 all the great neighbours, the Neighbourhood Watch & Sinn Féin reps who were here very quickly.

— Gerry Adams (@GerryAdamsSF) July 14, 2018
The attacks were also condemned by other political parties in Northern Ireland, with Alliance Party leader Naomi Long calling for unity in the wake of the incident.
"We need to stand together against all violence. No exceptions. No excuses," she said. "It seems this week some people are determined to drag us back into violence at whatever cost."
"These latest attacks on the homes of Gerry Adams and Bobby Storey are a deliberate and calculated attempt to cause fear and raise tensions within our community.  They must be condemned without equivocation by us all." pic.twitter.com/EYCoRLufeJ

— Naomi Long MLA (@naomi_long) July 14, 2018
Those sentiments were echoed in the Republic of Ireland, where Taoiseach Leo Varadkar denounced the Belfast attacks, as well as the wider violence across Northern Ireland.
"We stand with the decent law-abiding people from all communities in the North," he said. "We will not allow a small minority intent on violence to drag Northern Ireland back to the past."
I unequivocally condemn the violence in Derry and Belfast last night. We will not allow a small minority intent on violence to drag Northern Ireland back to the past. We stand with the decent law-abiding people from all communities in the North.

— Leo Varadkar (@campaignforleo) July 14, 2018
The west Belfast incidents come after six days of violence in Derry's republican Bogside neighborhood, which the PSNI have attributed to dissident republican elements from the 'New IRA.'
READ MORE: Police say rioters tried to murder them during 6th night of violence in N. Ireland (VIDEOS)
The unrest coincides with the loyalist marching season, which sees loyalists and unionists parading through nationalist areas.
Stating that the rioters in the Bogside had tried to murder them on Thursday night, police arrested a man on suspicion of attempted murder after officers were attacked with 74 petrol bombs and two improvised explosives.
The previous night saw numerous vehicles hijacked and burned in Belfast, while a bus was hijacked by masked men and set on fire in county Down.
Think your friends would be interested? Share this story!
You can share this story on social media: