Police say rioters tried to murder them during 6th night of violence in N. Ireland (VIDEOS)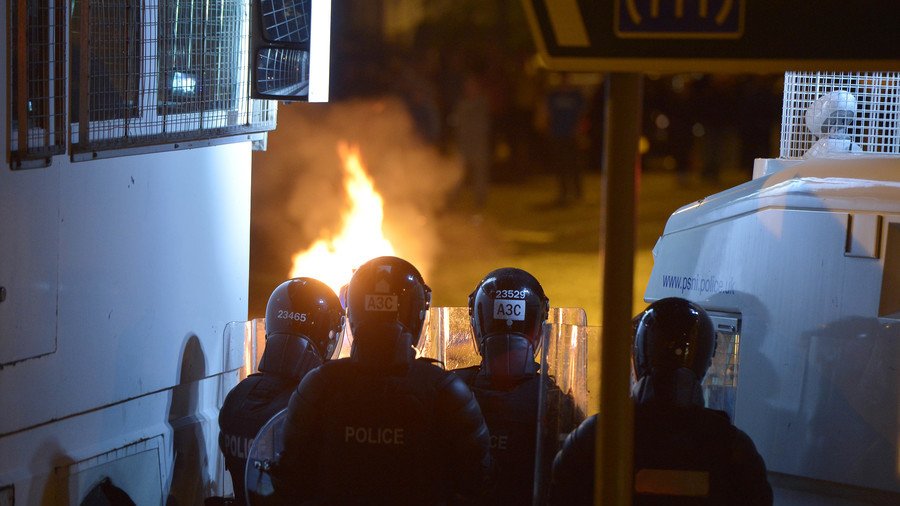 Improvised explosives and more than 70 petrol bombs were thrown at Northern Ireland police officers in the city of Derry following Twelfth of July celebrations.
Northern Ireland's police service said rioters tried to murder them on the sixth straight night of violence in the city. The unrest coincides with the Loyalist marching season which sees Loyalists and Unionists marching through Nationalist areas.
The violence broke out in the Bogside area of the city following Twelfth of July marches earlier in the day.
July 12, also known as Orangeman's Day, marks Protestant William of Orange's victory over Catholic King James in the Battle of the Boyne in 1690. The day is celebrated by the, mainly-Protestant, Unionist community and shunned by the, largely-Catholic, Nationalist community.
Two improvised explosive devices and 74 petrol bombs were thrown at police officers in a "prolonged and sustained attack."
Supt Gordon McCalmont said: "I am saddened, disheartened and frustrated that yet again police officers committed to keeping this local community safe have been attacked by a small number of people within it. It is nothing short of a miracle that officers were not injured."
Three men were arrested following the violence. One of them was arrested for attempted murder.
"While we have seen many young people involved in these attacks over the last number of nights, it is clear that this is being orchestrated by a more sinister, adult, violent dissident Republican element. This cannot continue. This must end now," Supt McCalmont added.
READ MORE: Bonfires, bus hijacking & petrol bombs rock Belfast on Eleventh Night (PHOTOS, VIDEOS)
Wednesday night also saw numerous incidents as enormous bonfires were built to mark Eleventh night. Police officers were again bombarded with petrol bombs and several cars were burned out. Elsewhere in Northern Ireland a bus was hijacked by masked men and burned out after it was set on fire in county Down.
Like this story? Share it with a friend!
You can share this story on social media: