Alcohol is not to blame for Juncker's stumbling at NATO summit, EU commission says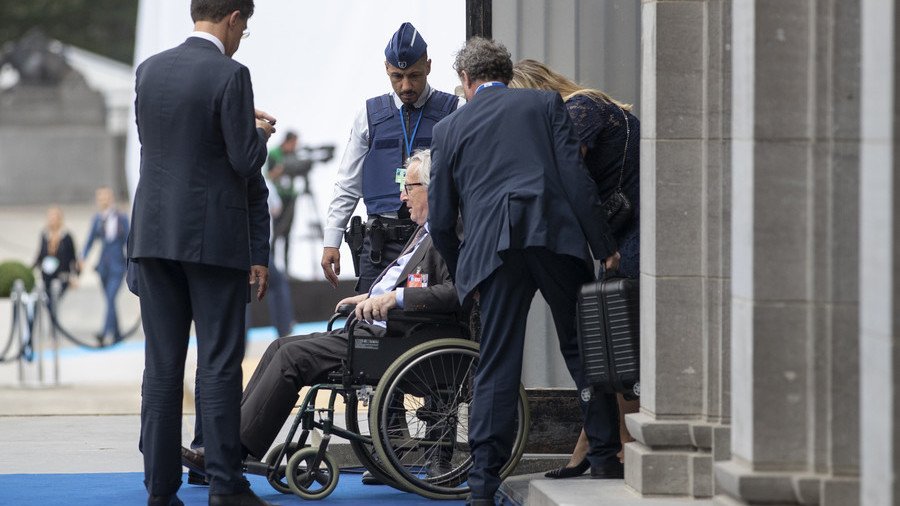 EU Commission chief Jean-Claude Juncker is recovering from "painful attack of sciatica" he suffered at the meeting in Brussels, the commission spokesman Margaritis Schinas has said rebuffing "insulting" rumors of drunkenness.
READ MORE: Drunk or in pain? EU's Juncker filmed stumbling at NATO summit (VIDEO)
Juncker was captured on camera struggling to keep balance and stumbling surrounded by world leaders ahead of a gala at NATO headquarters on Wednesday. Some politicians rushed to help, with Macedonian Prime Minister Zoran Zaev, as well as Portugal's Antonio Costa propping up the troubled 63-year-old official as he went down the stairs.
The video showing Juncker in such condition has made headlines on Thursday, with some suggesting that the EU official was just caught drunk. However, later in the day, EU Commission said that its President was suffering from back pain, thus confirming previous EU officials' claims.
"The president Wednesday night suffered from a very particularly painful attack of sciatica accompanied by cramps," EU Commission spokesman Margaritis Schinas told a daily briefing as cited by AFP. Sciatica is a medical condition that may cause pain going down the leg from the lower back.
The spokesman also blasted "insulting headlines" that were "exploiting president Juncker's pain." He added that Juncker made no secret about his illness and is currently on medication and feels better.
Think your friends would be interested? Share this story!
You can share this story on social media: