'We'll destroy the world': Dalek Trump & 'CyberMay' hit London during mass protest (VIDEOS)
Published time: 13 Jul, 2018 13:59
Edited time: 14 Jul, 2018 12:00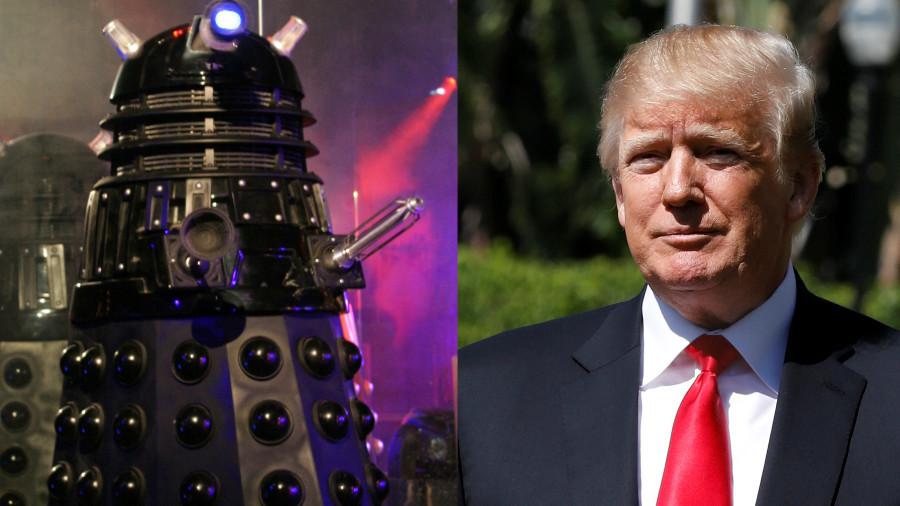 A 'Donald Trump' Dalek has invaded the streets of London along with a coterie of "secret agents" and his "best friend," 'Theresa CyberMay' – with whom he intends to "destroy the world."
The Dalek, which bears some of Trump's most recognizable traits, was spotted roaming the streets of the capital on Friday morning. Photos and videos of the strange group quickly emerged on Twitter as the mutants generated huge interest.
Daleks are extraterrestrial figures from the iconic sci-fi TV series 'Doctor Who'. According to the series' website, they are "one of the most feared races in the universe." Their creator's sole purpose is to "destroy all life" besides that of the Dalek race.
The Trump Dalek was surrounded by a group of secret agents, who were kitted out in suits and sunglasses and armed with, counterfeit, guns.
READ MORE: 'Where are your manners, Mr President?' UK minister scolds Trump over Sun interview
A Dalek representing the UK prime minister, dubbed 'Theresa CyberMay', also trailed behind.
I mean, I'd have been proud of England had we won the World Cup and everything but this makes me prouder. A Trump dalek. On our great streets. https://t.co/00OfU54KLi

— Lia Louis (@LisforLia) July 13, 2018
A video posted on Twitter shows the Dalek Trump talking to CyberMay as the pair stroll through Westminster Bridge: "You are my friend, you are my very good friend." He goes on to mock the PM saying "you are so strong and stable." CyberMay responds: "You are so rational and intelligent."
#DalekTrump invades Westminster! Props to the excellent Secret Service Agents armed with plungers and Theresa CyberMay. They will destroy your planet one climate agreement at a time! pic.twitter.com/8DQRUuCQdh

— Al Binnie-Lubbock (@alastairis) July 13, 2018
The stunt is part of mass protests against Trump's four-day visit to the UK which are taking place on Friday. Some 55,000 are expected to demonstrate against the US president at a mass rally in London. Meanwhile, a 20-ft inflatable Baby Trump flew above the London skies, portraying Trump as an enraged baby wearing diapers.
Like this story? Share it with a friend!