UK commits troops to its biggest Afghan surge since 2014 'pullout'
Published time: 11 Jul, 2018 14:49
Edited time: 12 Jul, 2018 13:08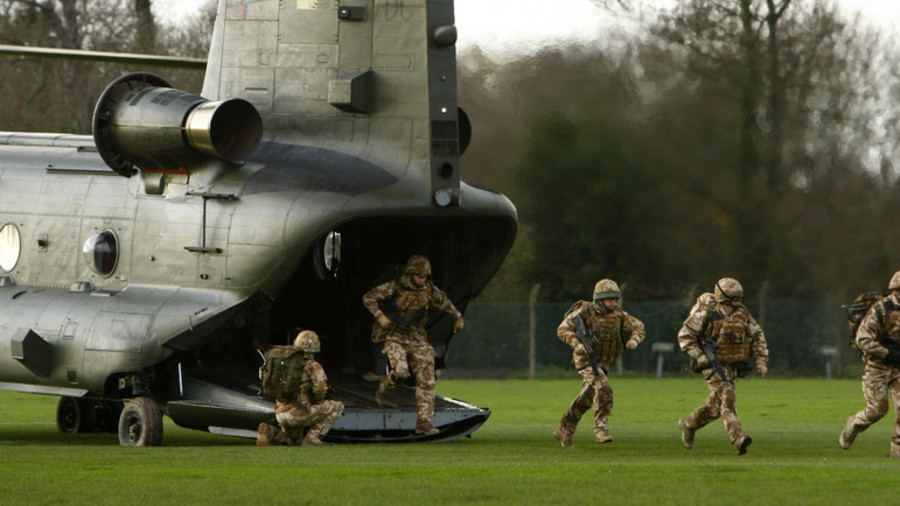 Ahead of the long-anticipated NATO summit in Brussels, the UK has committed to doubling its troop presence in Afghanistan. It is the largest number of British troops in the country since its pullout finished in 2014.
The announcement was made by Prime Minister Theresa May on the eve of the summit. US President Donald Trump has already reiterated his demands that allies should increase their defense spending and contribute more widely to NATO missions instead of relying on the US.
Since NATO's combat mission in Afghanistan ceased in 2014, UK troops numbers have stayed at around 450 in non-combat roles. At the peak of their deployment in 2009, UK personnel numbers had swelled to 9,500 across 137 British bases. The latest British surge will see a further 440 "non-combat" troops deployed to the Afghan theatre in a bid to help "bring the stability and security that the Afghan people deserve," May said in a statement.
Of that 440, approximately half that number will arrive as early as August, with the remaining troops arriving in February 2019. Once deployment has been completed, the UK will rise to become the third largest contributor of troops to Afghanistan out of the entire 29-member alliance. The troops will reportedly not take part in active combat roles, but instead resort to training and assisting Afghan forces, as well as reinforcing the UK-led Kabul Security Force. Dubbed "Armoured Uber," the KSF's primary mission is to transport international advisers safely around the capital.
Despite the coalition spending nearly 18 years in Afghanistan - which has cost the UK over £40 billion ($53bn) while estimates put the US cost at over $1 trillion - the security situation in the country has been deteriorating over the years. The Taliban has been seen gaining control of vast swathes of the country and a rival outfit pledging allegiance to the Islamic State has also taken root - gaining a presence and launching its own attacks.
Recent suicide attacks have targeted journalists, security personnel, as well as citizens registering to vote in the upcoming parliamentary elections.
READ MORE: UK to follow Trump and send more British troops to Afghanistan as Taliban attacks increase
Last August, opposition leader Jeremy Corbyn demanded that any troop increase by the UK in Afghanistan is voted on by Parliament with a spokesperson for the Labour leader saying a decision on whether to push for a vote would depend on the "manner of the deployment."
Saying that the war in Afghanistan had failed, Corbyn went on to warn the prime minister to not "obediently" follow America's lead. But follow she has, with the news expected to be well received by US President Donald Trump who is expected to use the Brussels summit to reiterate demands that NATO allies contribute more to the alliance in both troops numbers and in defense spending.
Taking the opportunity for one last tweet before his transatlantic flight, Trump tweeted a reminder that it wasn't fair to the US taxpayer that America is "spending many times more than any other country in order to protect them."
Getting ready to leave for Europe. First meeting - NATO. The U.S. is spending many times more than any other country in order to protect them. Not fair to the U.S. taxpayer. On top of that we lose $151 Billion on Trade with the European Union. Charge us big Tariffs (& Barriers)!

— Donald J. Trump (@realDonaldTrump) July 10, 2018
Despite earlier promises to withdraw US troops from combat zones, the Trump has vowed to up its own numbers in Afghanistan amid a growing number of attacks by Taliban and Islamic State militants in the run-up to Afghanistan's parliamentary elections in October which has left hundreds killed in 2018 alone.
Last August, Trump promised to deploy 4,000 troops to the region, adding to the 8,300 currently there, and estimates could see a total of 18,000 US troops deployed by the end of 2018.
Think your friends would be interested? Share this story!