Officer hospitalized as Tommy Robinson supporters face-off with anti-fascists (PHOTOS)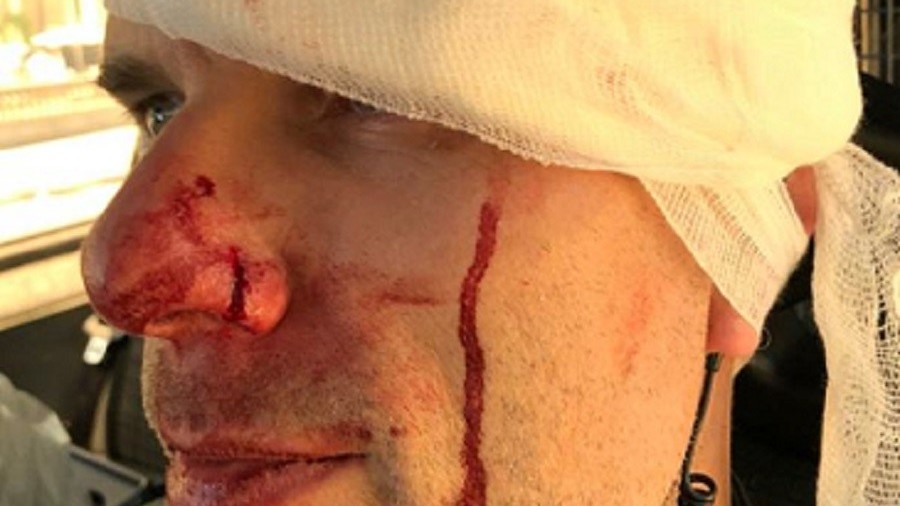 Photos have emerged of a police officer's face covered in blood after he was injured at demonstrations in Leeds which saw anti-fascists facing off against supporters of English Defence League (EDL) founder Tommy Robinson.
West Yorkshire Police tweeted pictures of the officer who was hospitalized after being hit by a glass bottle during the fracas.
The officer injured on the weekend wants to say Thank You for all your messages of support & well wishes. A few more hospital visits booked but he is recovering well. He does want to share some images as a result of this unprovoked attack #ProtectTheProtectorspic.twitter.com/zHvAltYAQ8

— Ops Support Specials (@WYP_SRANS_SC) July 9, 2018
Some 250 walked out as part of a march organized by the 'Yorkshire Patriots' and against Robinson's imprisonment. Robinson - whose real name is Stephen Yaxley-Lennon - is serving a 13-month sentence after pleading guilty to contempt of court.
READ MORE: Tommy Robinson jailed for 13 months after breaking contempt of court laws
The march was countered by more than twice as many people with some 750 supporters of the Leeds Anti-fascist Network marched out crying 'Where is your Tommy gone?'. Police were deployed to prevent the two groups from clashing.
Chief Superintendent Mabs Hussain, who was the commander of the operation, said the constable's injury "is completely unacceptable" and is under investigation.
If you like this story, share it with a friend!