Police officer given all-clear at Salisbury Hospital after fears of nerve agent exposure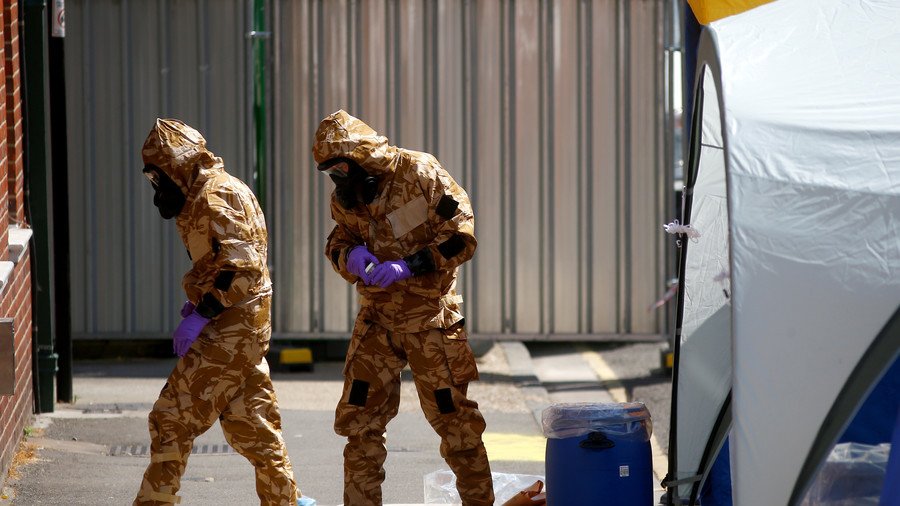 An officer who was examined for potential nerve agent exposure has been given the all-clear, police have revealed. The incident was linked to the Amesbury case, in which a couple was affected by the same toxin as Sergei Skripal.
"The police officer who was transferred to Salisbury District Hospital this evening has been tested and does not require any treatment. This individual was not poisoned by a nerve agent," a Salisbury District Hospital spokesperson said, adding that the person had already left the facility.
Late on Saturday, Salisbury District Hospital released a statement saying that a police officer had sought "medical advice in connection with the ongoing incident in Amesbury." He was later transferred to the hospital.
READ MORE: Policeman evaluated in Salisbury hospital in connection with nerve agent exposure case
The officer's hospitalization came after Dawn Sturgess, 44, and her partner Charlie Rowley, 45, fell ill in Amesbury earlier in July. Amesbury is located less than 12km from Salisbury. UK authorities quickly attributed their condition to exposure to 'Novichok' – the substance the UK claims was used to poison Sergei Skripal and his daughter in March this year.
Pleased to confirm that the police officer who sought precautionary medical advice at Salisbury District Hospital in connection with the incident in Amesbury has been assessed & given the all clear. https://t.co/robkFhR9wt

— Wiltshire Police (@wiltshirepolice) July 7, 2018
However, the authorities admitted that they do not know how the pair came into contact with the substance, adding that there was nothing in their background to suggest they would be a target. Regardless, a potential connection to the Skripal case is being examined.
While the UK and the West immediately blamed Russia for the Skripal poisoning, the public has yet to be provided with any credible evidence to back up the claim. Moscow has denied the allegations. Notably, neither UK specialists at the Porton Down laboratory, nor the Organization for Prohibition of Chemical Weapons (OPCW) identified Russia as the origin of the nerve agent.
Russia's former security services chief Sergei Stepashin alleged the UK may be incapable of investigating the Skripals case and Amesbury poisoning incident on its own. He claimed that London will be best advised to look for leads "around Porton Down", where samples of 'Novichok' and other deadly chemicals are stored, and "drop the insane theory of Russia's culpability."
Think your friends would be interested? Share this story!
You can share this story on social media: