Amesbury poisoning is a terrorist attack, secondary contamination impossible – expert to RT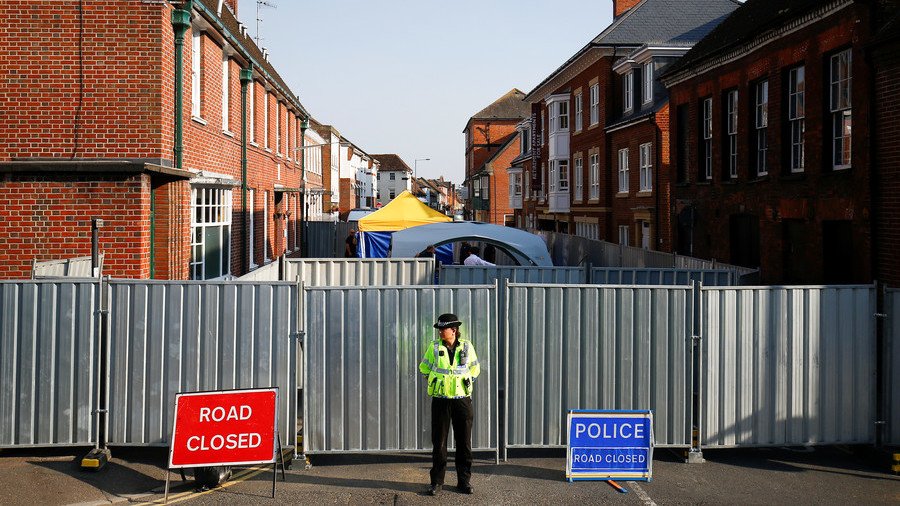 The poisoning of a UK couple in Amesbury was a terrorist act, a chemical weapons expert told RT. The victims couldn't have been affected by the toxin from the Skripal attack in March, as Novichok can't remain stable that long.
Former UN inspector in Iraq Anton Utkin said he "wasn't at all surprised" by the news reports of a new chemical poisoning in the UK, which emerged earlier this week.
"Several months ago I said when the responsibility for the use of chemical weapons is assigned before the investigation it actually provokes more use of chemical weapons," he said.
By blaming Russia for using the so-called Novichok nerve agent against former double agent Sergei Skripal and his daughter in Salisbury without providing any proof, "the UK government, actually, put its own population in danger because if there are some enemies of Russia, who would like to create problems for the country, they would find incentives in conducting terrorist acts with the use of chemical weapons because they know for sure who would be blamed after such incidents," the chemical arms expert explained.
Utkin ruled out the possibility that the Amesbury couple, who currently remain in critical condition after being affected by what Britain claims is the same nerve agent, got poisoned as a result of secondary contamination.
"The Novichok chemical is an organophosphorus compound, and I can't imagine how organophosphorus compounds of such structure could stay in an environment for months and still be effective," he said.
"The VX nerve agent, which is one of the most stable organophosphorus compounds, can stand for ten days, two weeks, maybe three weeks if the environment conditions are good enough for it. But [remaining] for four months in an environment – it's impossible," the expert added.
In order to be contaminated, the UK couple must have "found a container [with the nerve agent], opened it and drank from it or touched it, or something," Utkin said.
"But such a version of events takes us away from the real facts. I believe the real facts are that it's a terrorist act and it was conducted against British citizens," he added.
READ MORE: 'New legal high?' Twitter awash with mockery & conspiracy after Novichok hits UK again
The new poisoning case will produce more accusations by London against Moscow, as "the British government is trapped in its own policies. It's very hard for them to say: 'This isn't the Russians,'" the expert said.
However, this time it would be equally hard to explain why Moscow would use a chemical weapon against two British citizens with drug problems and no connection to either the Skripals or Russia.
"Even those who believe the British government, now will probably start thinking and asking questions because, remember, in four months the British police haven't come up with any results on the Skripal case," Utkin said.
The only option for Prime Minister Theresa May is to "blame Russia for losing control of its chemical arsenal," which could endanger British citizens and security.
The odds of recovery for the Amesbury couple are "around 95 percent," Utkin estimates. "The medical treatment is going to be, probably, very professional because the medical personnel [in Salisbury] is already aware of this problem" after treating the Skripals, who "were discovered unconscious, but still survived," he said.
On Wednesday, Wiltshire Police declared a "major incident" in Amesbury, which is around 12km from Salisbury, after a British man and woman in their 40s were hospitalized following "suspected exposure to an unknown substance."
Medics evacuated Charlie Rowley and Dawn Sturgess, who reportedly had problems with alcohol and drugs, from a property in Muggleton Road on Saturday; but the incident remained unreported for a few days.
Think your friends would be interested? Share this story!
You can share this story on social media: