Amesbury poisoning incident fuels another wave of anti-Russian hysteria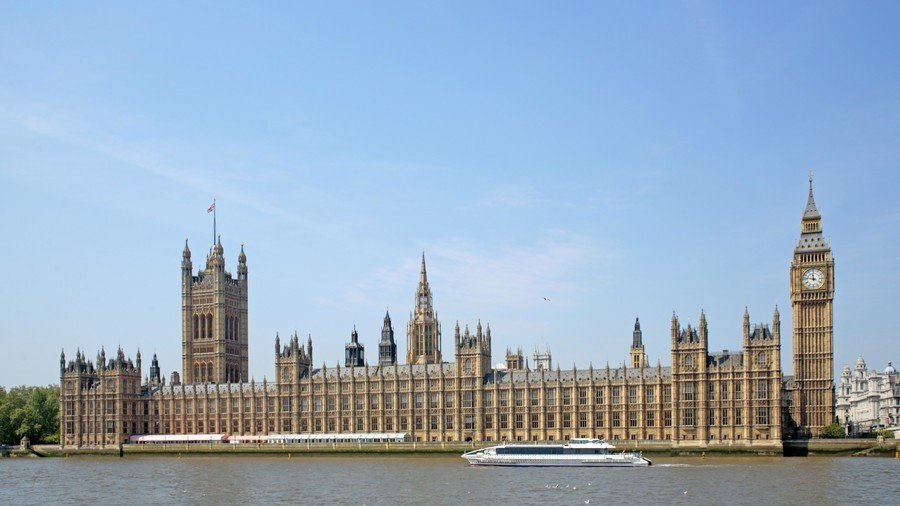 A new poisoning incident on UK soil has given British politicians a perfect reason for launching another McCarthian witch hunt on dissent. One MP already targeted RT and was called out for limiting free speech.
"Could … members of this house on all sides not appear on Putin's propaganda television channel?" Mike Gapes, a Labor MP for Ilford South, said during his speech in the House of Commons in an apparent attempt to discourage his fellow parliamentarians from providing any commentaries to RT.
He also accused RT, as well as some perceived "St. Petersburg troll factories," of "gearing up to spread misinformation." He spoke just a day after the reports about a Wiltshire couple being poisoned with what was later described as the same strand of 'Novichok' nerve agent that was used against the former Russian double agent Sergei Skripal and his daughter in March.
It goes without saying that Gapes did not bother to provide a single piece of evidence to support his claims. Nevertheless, his words apparently resonated with the British Interior Minister Sajid Javid, who praised the MP for raising the issue and then complained that "there have been far too many incidents where members of the [House of Commons] have sadly supported the Russian propaganda machine" by apparently appearing on RT.
Javid then took the liberty to speak for all the British people in what appeared to be another blatant attempt to exert pressure on lawmakers. The minister said that "the British public will not support any" of those MPs that "support" Russian President Vladimir Putin. The implication here is that anyone who appears on RT automatically supports Putin.
This alleged fight against "insidious Russian propaganda" perfectly plays into London's broader political narrative, in which Russophobia has become one of the leading trends. The UK has so far failed to provide any solid evidence to prove that Russia had anything to do with the Skripals' poisoning, as the official investigation has not yet provided any clear results. However, London has already presumed that Moscow might be implicated in another poisoning incident at a time when the investigation of the new case has only just started.
It is far from the first time that British officials have involved RT in their political games, as they apparently desperately seek to silence the channel that is not perfectly in line with their narrative. In March, when the Skripals case hit the news and the British government was falling all over itself to convince the world that Moscow was behind the attack on the ex-spy and his daughter, some British MPs already took advantage of the situation and called for RT UK to have its license revoked on some contrived pretext that it was allegedly "broadcasting propaganda."
In their overzealous attempts to "protect the freedom of speech" by trying to shut down an alternative opinion, the MPs fell out of touch with their own constituents, who turned to social media to enlighten the people's chosen ones that their suggestions actually amount to censorship.
I find RT News & programmes considerably more informative, accurate & objective than @BBCNews is. I don't want to just hear one side of the story, I like to hear all sides of the story&make up my own mind, rather than allow BBC or anyone else to tell me what to think #WorldNews

— Christina (@55krissi55) July 5, 2018
Rather have putin than anyone in parliament like u

— James (@jamesbuzzer) July 5, 2018
Joseph gobbels ,leave propaganda to those that knows it best,trump/putin summit, world cup in progress,no evidence on skripal case,wow now is Rt ,why Rt maybe is because they have done a better job than Cnn,bbc,msnbc,sky and other lying crook they call media.

— Gallant (@ricksouth27) July 5, 2018
Gapes already admitted that he had been confronted by angry people on social media over his remarks in parliament. Unsurprisingly, he just discarded all those who disagreed with his stance on the issue as "squawking Putin apologists."
Looks like my remarks in the House earlier about Russian misinformation from Putin's propaganda channel RT and the St Petersburg troll factories have been noticed. Timeline filling up with Skwawking Putin apologists.

— Mike Gapes (@MikeGapes) July 5, 2018
Even though it has not yet come to calls for banning RT altogether, one cannot rule out such possibility, taking into account the British politicians' previous attempts to deal with the channel. The calls for the MPs to stay away from RT might well indicate that London would very much like to see public figures confined to appearing only in the media that so conveniently peddles the government narrative.
After all, apart from ostracizing RT, such moves show a much more worrying trend that some British officials are quite willing to limit the freedom of speech of their own fellow citizens by telling them who they may or may not speak to.
You can share this story on social media: