'Racist' Football Lads Alliance must be tackled 'head on' – Unite leader McCluskey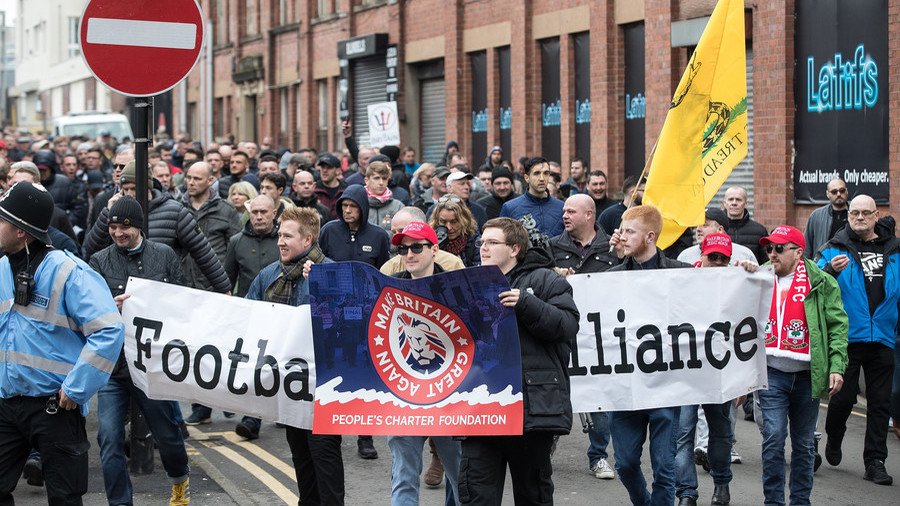 The UK's biggest trade union, Unite, will seek to uncover the "racist core" of the Football Lads Alliance (FLA) and turn football fans away from it – its leader Len McCluskey vowed in an article penned for the Daily Mirror.
Despite the group's claim they are not "fascist thugs," McCluskey argued the FLA is trying to steer working class people "away from real issues," such as the overstretched and underfunded NHS, by inciting racism against minority groups.
"They spread hatred and division at a time we should be united behind our England team which embodies our diverse and talented youth, proving there's no room for racism in our beautiful game, or in our communities," the Unite leader wrote.
McCluskey's column, published on Monday, described how the FLA was founded in 2017 following the London Bridge terrorist attack in June that year, going on to argue that the group "uses Islamophobia to stir up fear and racism."
The FLA was behind a Birmingham march in March this year, where an estimated 5,000 protested against what the organization branded Islamist extremists. It featured anti-Islam figures including right-wing politician Anne Marie Waters and founder of the English Defence League (EDL) Tommy Robinson.
McCluskey said Unite was expecting to pass a resolution on Monday that would call on football fans and supporters' clubs to "stand against" the FLA. "The trade union movement needs to tackle this head on," McCluskey said. "I call on all members to become part of the opposition to the rise of this new far-right street movement. Let not the peddlers of prejudice win."
The trade union leader's appeal follows the Premier League saying it had been in touch with UK authorities, including the Home Office, over "very concerning" reports of FLA supporters trying to stir anti-Muslim hatred at games.
FLA leader John Meighan insists the group is made up of ordinary supporters opposed to all forms of "extremism."
However the organization's avowed rejection of racism was recently challenged when it was revealed that its 65,000-strong Facebook group, which can only be accessed on invitation, is rife with violent, racist and misogynistic content directed against Muslim London Mayor Sadiq Khan and Shadow Home Secretary Diane Abbott, Britain's first black MP.
Posts from individual members called for Abbott to be "run over" and for Khan to be hanged, the Guardian reported in March after its sister paper, the Observer, gained access to the Facebook page.
Meighan, who founded the FLA, said the group's members were frustrated with Abbott and Khan. Abbott was a regular critic of the FLA and was racist against white people, Meighan claimed.
"That is why people have taken offence to her," he said to the Guardian. "It has been proven that she is actually racist herself so you need to [do] a little bit of investigation into that, around white people."
If you like this story, share it with a friend!
You can share this story on social media: