Straight couple win the right to marry like gay couples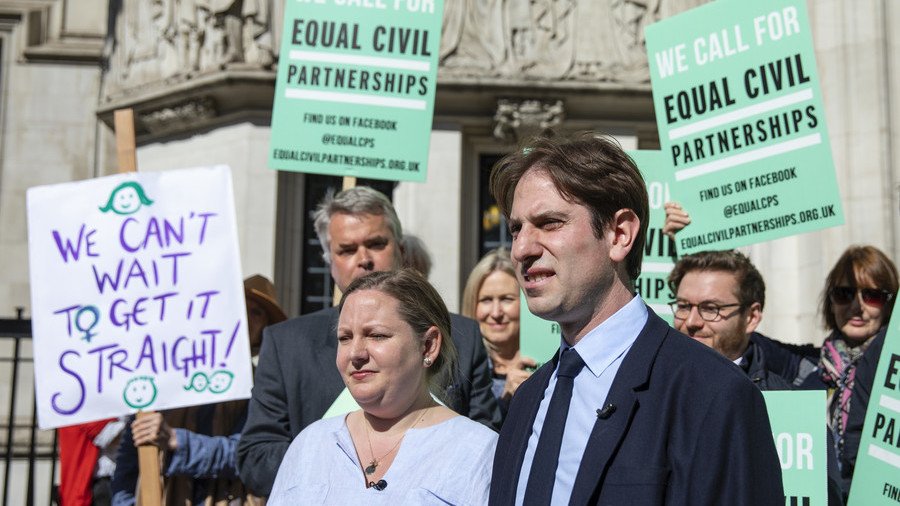 A heterosexual couple, who want to show their everlasting commitment to each other without entering into the patriarchal contract that is marriage, have won a legal battle to enter a civil partnership instead.
Rebecca Steinfeld, 37, and Charles Keidan, 41, from west London, won their case in the Supreme Court after it was unanimously decided by five justices that the Civil Partnership Act 2004 was incompatible with the European Convention on Human Rights.
The Act, which until the ruling was reserved for single-sex couples only, offers Steinfeld and Keidan the same legal treatment in terms of inheritance, tax, pensions and next-of-kin arrangements as marriage.
Announcing the court's decision, Lord Kerr said the government did not seek to justify the difference in treatment between same-sex and different-sex couples.
"To the contrary, it accepts that the difference cannot be justified," he said.
While same-sex couples have had the choice to either get married or enter a civil partnership since March 2014, heterosexual couples can only get married – which led Steinfeld and Keidan to argue that the law was discriminatory.
In their ruling. the judges said that the government should have eliminated the inequality of treatment between same-sex and opposite-sex partners when the Marriage (Same Sex Couples) Act came into force in 2014, the judges said.
"This could have been done by abolishing civil partnerships or by instantaneously extending them to different-sex couples… Taking time to evaluate whether to abolish or extend could never amount to a legitimate aim for the continuance of the discrimination."
While the ruling does not immediately change the law of the land, or oblige the legislature to do so, the decision will put pressure on the government to change the law.
READ MORE: Top EU court rules gay couples have equal residency rights regardless of country's marriage laws
The couple, who have been together for eight years and have two children, had previously called out the patriarchal "legacy" of marriage, calling the institution that "treated women as property for centuries" an option that wasn't available to them.
Speaking to the BBC after the ruling, the "elated" couple explained that they wanted to raise their children "as equal partners," adding that entering a civil partnership, "a modern, symmetrical institution," set the best example for them.
According to The Guardian, the couple's commitment to equality and rejection of marriage because of its patriarchal associations is such that, rather than give them a double-barreled surname, they have the fused family name of Keidstein.
LGBT and human rights campaigner Peter Tatchell called the ruling a "victory for love and equality."
"It was never fair that same-sex couples had two options, civil partnerships and civil marriages, whereas opposite-sex partners had only one option, marriage," he said.
Think your friends would be interested? Share this story!
You can share this story on social media: